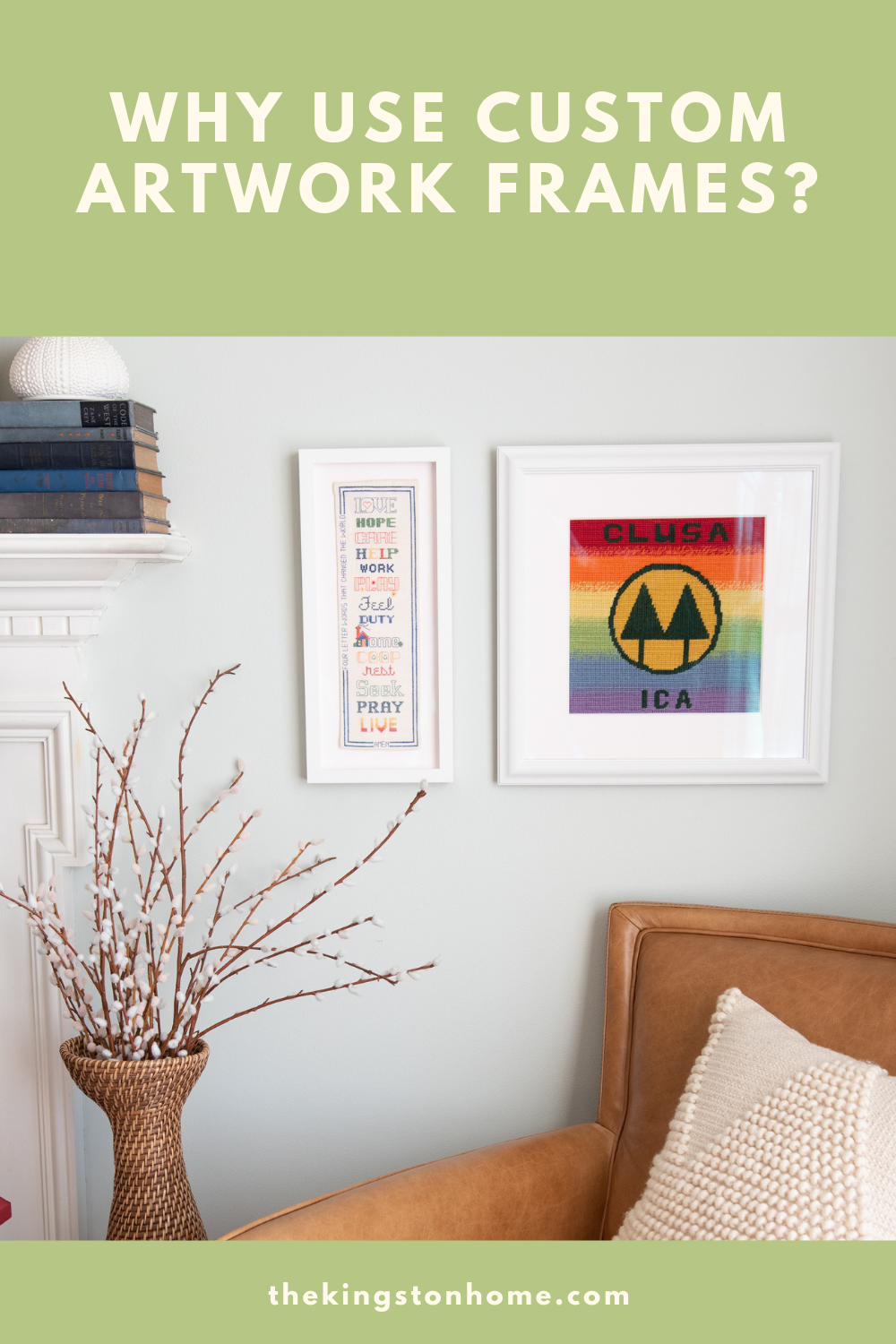 I love inexpensive frames. New ones, antique ones, painted one, wood ones – the list goes on! Frames have always been my go-to for home décor because they are an easy way to tie a room together. There are times though when you want to display something precious – and custom artwork frames are so important! {FTC Disclaimer: This post is sponsored by JOANN but the opinions and projects are mine all mine!}
WHY CUSTOM ARTWORK FRAMES ARE IMPORTANT
You will generally find me in the frames section at JOANN stocking up when they are having a sale…but some things are just too important for an everyday frame. I recently inherited some art that hung in my dad's office. I immediately knew custom artwork frames were the way to go.
My Dad passed away two years ago. My Mom recently gave me two projects she'd created for his office almost 50 years ago. These pieces of artwork were the background of my memories for my entire childhood! So keeping them safe and being able to display them in my home is a real gift. I couldn't just put them in any old frame!
Mom gave the rainbow needlepoint to Dad shortly after they got married in the early 70s. He had just taken a job as the President of CLUSA and the rainbow was the international co-op symbol. The needlepoint was already framed (with no glass). All I had to do was pick the mat and frame colors.
The four letter words cross-stitch was a store bought pattern (she added the words co-op). It couldn't be traditionally framed because the material had been folded over at the top and bottom for dowels. The JOANN associate (Jan) recommended laying the cross-stitch on top of the mat instead (which I didn't even know was a thing) and gently stitching it together. Wait until you see the result!
HOW TO ORDER CUSTOM ARTWORK FRAMES AT JOANN
Even during COVID restrictions bringing these in to the store to be framed was safe, personal, professional, and easy! Jan and I maintained social distancing, there was a plexiglass wall between us and Jan wore gloves. She also reminded me that when I came to pick them up I could do it curbside!
I am TERRIBLE at making choices. When you approach the JOANN custom framing counter it can seem a little intimidating. Thankfully the counter is staffed by employees who know their stuff! Jan helped me pick out everything with no pressure to buy the more expensive frames. Best of all – no judgement about my choices! She listened to my vision and was super patient, and I ended up with exactly what I wanted. She even asked me if I wanted the old frames returned (no thank you)!
Custom framing services are pretty regularly on sale (they were when I placed my order) but Jan asked if I got JOANN emails and reminded me there was an additional discount in my email! You know I love a bargain on top of a bargain – thanks again Jan!
Speaking of…
To encourage you to protect and display your memories, JOANN is offering a special coupon code February 1st – March 8th! When you drop off your pieces ask the JOANN associate to apply code KINGSTON70 for 70% OFF your custom framing order!! WOOHOO!!!
The artwork was ready in just a little over two weeks. They open the packaging in the store so you can take a look in case you have questions. I know I talked the poor cashier's ear off about how much they meant to me and how excited I was to get them home. I was SO THRILLED with how they turned out!
HOW TO HANG YOUR CUSTOM FRAMED ARTWORK
Once I got them home it was so easy to grab a photo hanger and get them up quickly. JOANN attaches the hanging kit hardware to the back of the frame as part of their service!
In less than five minutes we had them up in our living room! They've added a pop of color and some wonderful memories to what was once a blank wall. Seeing them on the wall even encouraged me to freshen up the area around my fireplace. Who doesn't need a little refresh these days?
Next time you're going through your box of treasures if you find something that can be framed and displayed in your home I hope you'll head on over to JOANN. Give yourself the gift of sharing your memories and I promise it will brighten up any room.
LOOKING FOR MORE GREAT PRODUCTs FROM JOANN?

CHECK OUT THIS POST: