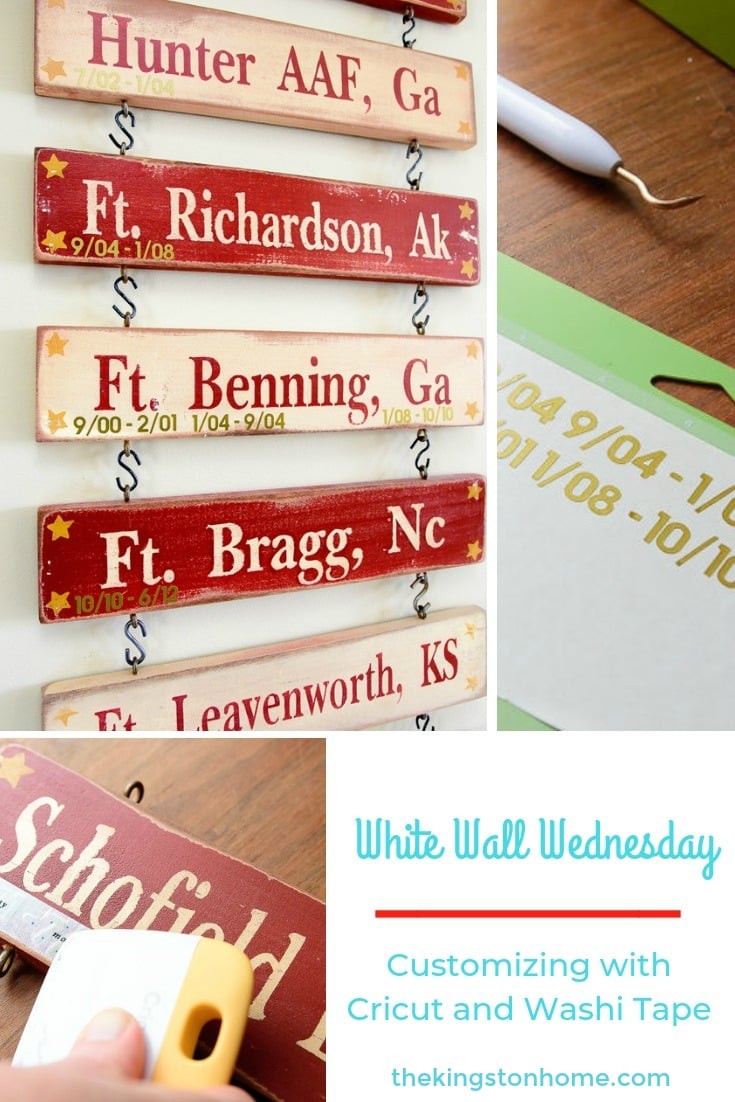 White Walls Wednesday is baaaaacck – and today I'm sharing a project that I've been thinking about for YEARS but kept putting off until I got a great little tip about applying intricate vinyl using washi tape. Yep! Washi tape!
So many military families have a wall hanging similar to this one – a record of all the places you've lived with new duty stations lovingly added along the way. I get mine from WordBoards on Etsy – I love to support other military wives in their small businesses!
The only issue? Unless you wait to buy your boards until after you've left a location you don't have the dates on them! This one hangs prominently in our kitchen and every time we have a new friend over we get the "when did you live in Hawaii?" or "how long did you live in Georgia?" questions – and truth be told, my memory is too terrible to remember! With my Cricut Explore Air, some gold vinyl that washi tape idea I was able to customize my sign in about 30 minutes. I'm just sorry I waited so long!
Ha! I didn't notice until I had this post all ready to go that Bizzy Bee is poking her head around the corner in the photo above. That sweet girl is like Where's Waldo! 🙂
SUPPLIES NEEDED:
Ordering from cricut.com? Use code CRICUTCREATORS10 for 10% off and FREE shipping on any order over $50. Includes sale and clearance prices, does not include machines (anything with a plug). Cricut items can also be found at HSN, Amazon, and JOANN stores.
HOW TO MAKE CUSTOMIZED WALL ART WITH CRICUT AND WASHI TAPE:
Measure the space you've got on your project where you want to put your dates, then select a font in Design Space and type out the dates, sizing to fit. TIP: use a "plain" font, because these are SO small that you will spend a hundred years weeding them if you try to pick something fancy. TRUST me. 😉
Cut the dates from the vinyl, then use the weeder from the tool kit to weed the excess vinyl from the backing so only the dates remain. Instead of applying transfer tape to the dates – apply washi tape! It is smaller, easier to use, and semi-sheer so you can still see your images to set them in place. WASHI TAPE! Who woulda thought?
Once the washi tape has been applied, cut the dates in to individual sections.
Use the scraper from the tool kit to apply your dates to your project.
And voila! Working on this project brought back so many memories of beautiful places, houses that felt like home, and the incredible people we've met along the way. Luckiest, luckiest, luckiest girl in the world.
Looking for more great inspiration from military spouses? Check out the amazing project below!