Using your Cricut machine and a little bit of spray paint, you can upcycle a kids desk into a fun piece of home decor for any room!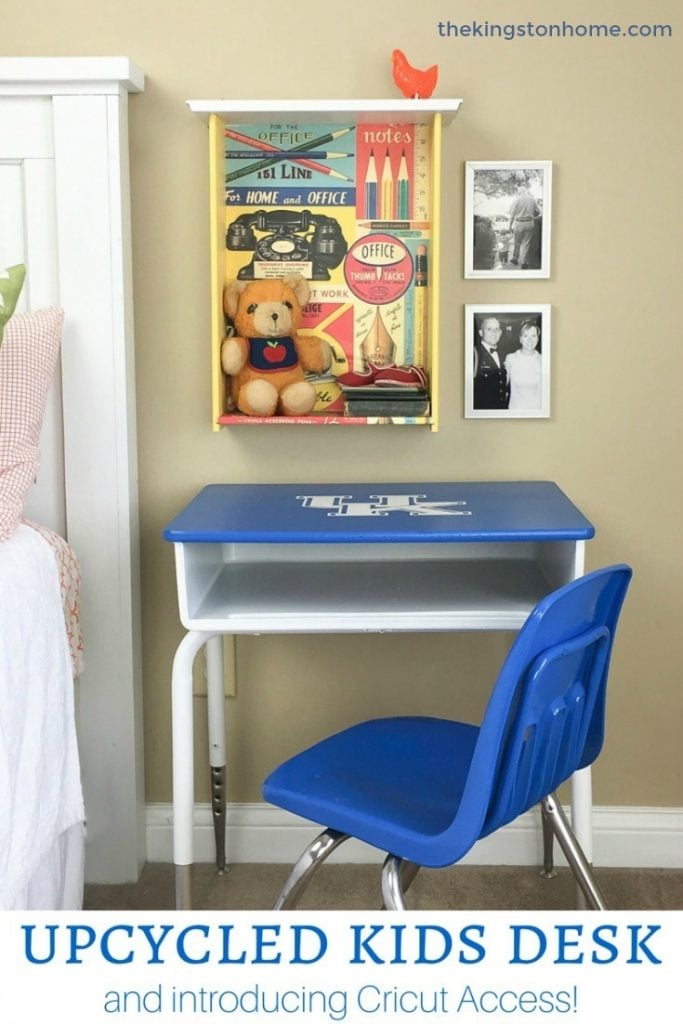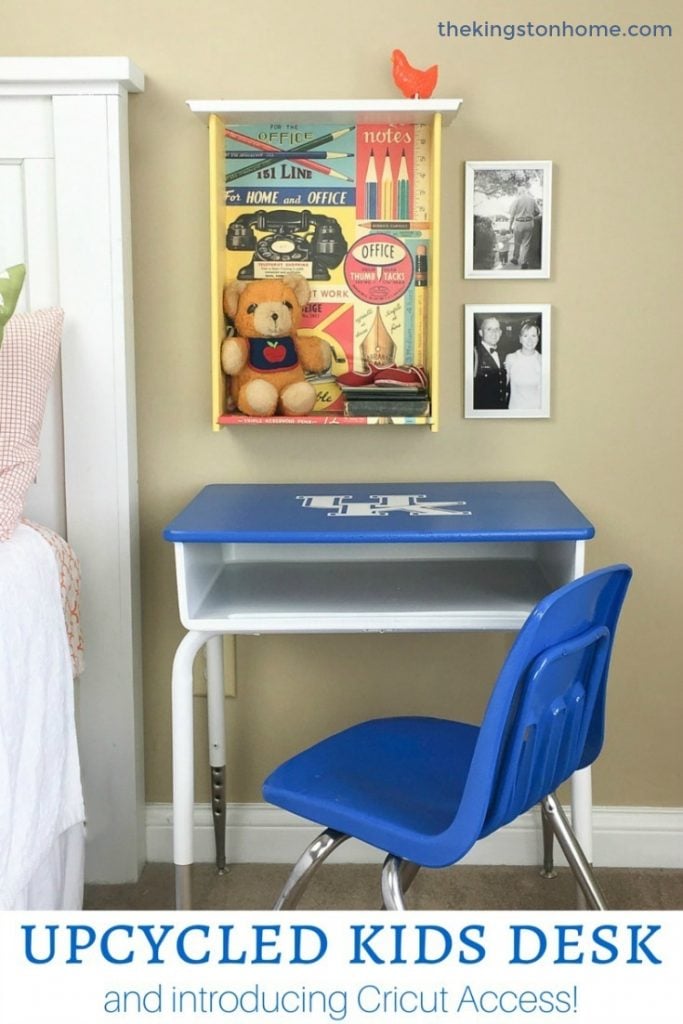 FTC Disclosure: This post contains affiliate links and we may be compensated if you make a purchase after clicking on some of the following links.
Because when your neighbor comes over and wonders why you have a kid's desk sitting in your garage (because it was $10 at the Habitat Re-Store) then asks if you will make it in to a gift for his grandson (who is a big University of Kentucky fan)…you get out your Cricut, open your locker full of spray paint, and get to work!
supplies needed:
Used Kids School Desk and Chair
Your choice of spray paint for the desktop – we used Rust Oleum Sail Blue
Metal Polish
Cricut Vinyl – we used Linen
Painter's Tape
Screwdriver
Foam Brush
Cleaning Product (like Simple Green)
how to make upcycle kids' desk:
Take the desk apart with the screwdriver.
Take the top off from the base and take the metal leg parts out of the base. After it is apart, give the top a light sanding with some fine sandpaper to help the paint adhere. Once the top is sanded, clean the entire desk. We used denatured alcohol and rags but you can use whatever cleaner you have available that does not leave a residue.
Now that the desk body and top are clean turn your attention to the metal portions of the legs. We cleaned ours with a fine abrasive polish to get them shiny again.
Polished legs (two on left) and unpolished legs (on the right).
The chair does not come apart, so clean it as best you can and then tape off the legs to prep for paint.
Now that everything is clean we can start to paint. We started our painting with a light layer of an all surface primer. Once that was dry we got busy with the blue on the desktop and chair and white on the desk base. When you are happy with the finish (about 3 coats) leave it to dry for about a week. This long drying time will help prevent tacking and surface flaws from handling.
PS – Beth is SUPER psyched that Don took this photo of her wearing a winter hat indoors (short haired people problems) and we had to use it for this blog post. 🙂 Can you spy Bizzy Bee?
We created a vinyl UK emblem by uploading the image in to Cricut Design Space (want to know more about uploading images? Cricut has a great video tutorial for you). After the vinyl is cut, use the weeder to weed out the excess vinyl from the design and then place transfer tape over the design. Gently peel the transfer tape (and the design) from the backing and place on the desktop.
*Speaking of Cricut…at the bottom of this post we've got some FAB news about the NEW Cricut Access!*
To ensure good adhesion smooth out any bubbles using the Cricut scraper before you remove the transfer tape.
Peel off the transfer tape and get your brushes ready for the Mod Podge.
The Mod Podge Satin Furniture finish ensures our desktop will last for a long time to come. Use a foam brush to put three to five coats over the entire top, to include the sides. This goes quicker than you think; we were able to do 4 coats in an afternoon and the desktop was ready to handle by dinnertime.
Now you are ready to reassemble your desk!
ok…let's talk about Cricut Access for a minute! Cricut Access is the new and improved version of the Cricut Design Space subscription. What's new about it? How it is improved? Well…
LOWER PRICE: The annual price of Cricut Access comes out to $7.99 per month – compared to the monthly subscription cost of $9.99 per month (or the old annual subscription which was $8.25 per month).
MORE IMAGES/FONTS: You get UNLIMITED access to over 30,000 images, 1,000 Make It Now projects and more than 350 fonts…including a few exclusives!
EASIER TO KNOW WHAT IMAGES ARE INCLUDED: every image/Make It Now project that is available to you will show a little green flag on the top left of the image, and there is a Cricut Access option in the drop down menu on the top right of the Design Space screen.
ADDITIONAL SAVINGS: Have you been eyeing some of the Disney Cricut Cartridges? Need to stock up on some Gold Iron On? Cricut Access subscribers get 10% off ALL products, supplies and consumables on Cricut.com, AND 10% off any digital images you purchase through Design Space! Yes!
Do you already have a subscription to Cricut Design Space? Then you have automatically been upgraded to the additional new Cricut Access benefits. Wahoo! Not a subscriber? You can head on over to Cricut.com and sign up for a monthly or annual subscription. We have been upgraded for a few days and can tell you the changes are AMAZING. Seeing those little green flags makes us feel like we are really getting our money's worth (we can make ALL of those things!!) and has inspired us to create even more. We think you will love it!
Now that we have rambled on (thanks for hanging with us!) we'll leave you with this. Just in case you think we are getting super fancy with our staged "finished project" photos – we give you the Bizzy Bee…who refused to get off the bed when we were trying to set up the shot.
LOOKING FOR ANOTHER upcycle PROJECT? THEN CHECK OUT OUR Upcycled Drawer Shadowbox!