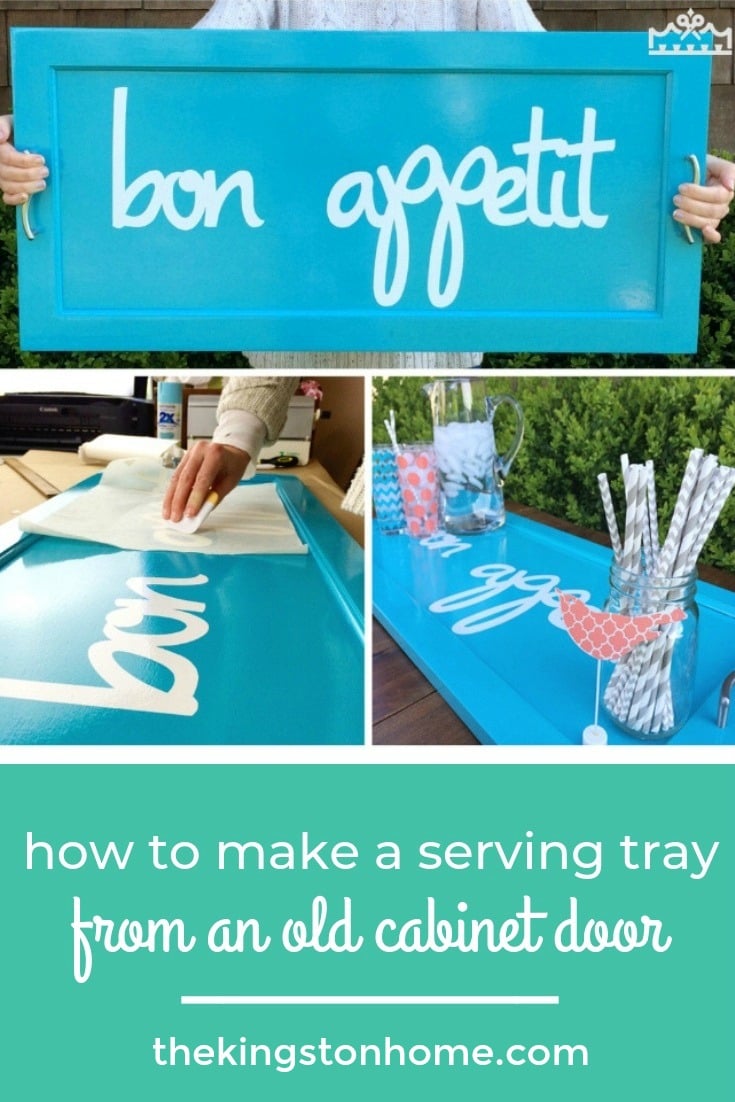 If you love upcycling like we love upcycling – grab an old cabinet door and some handles and let's make a decorative tray!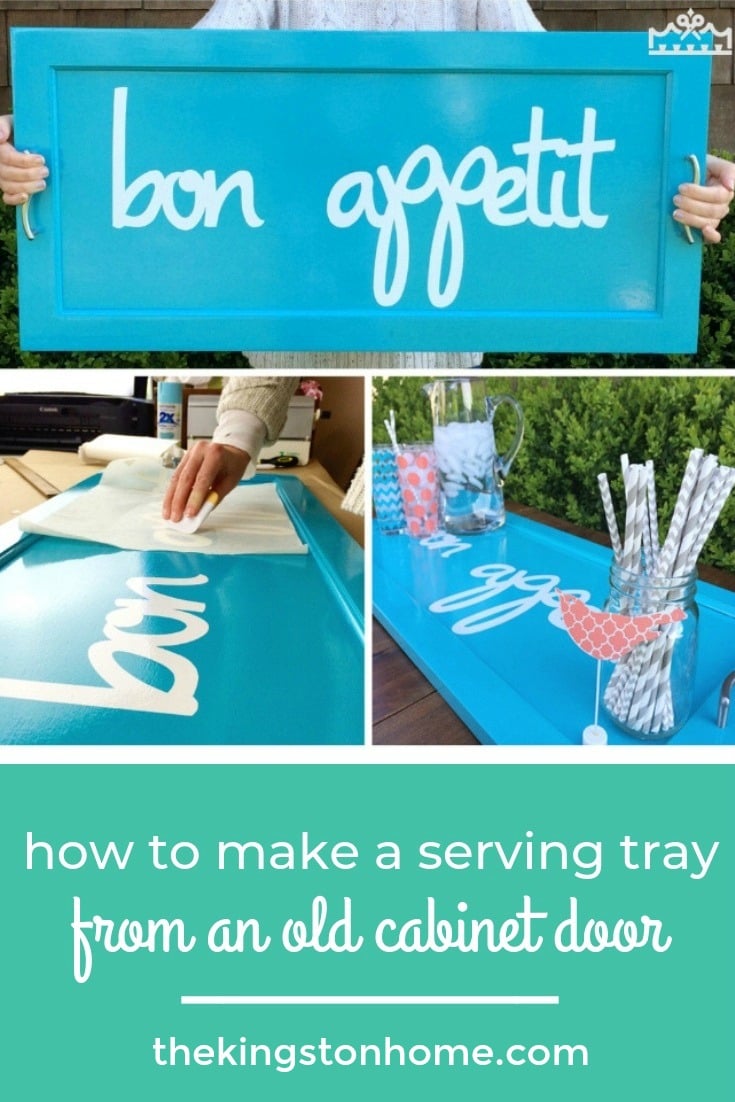 WE LOVE JUNKING. Thrifting. Whatever we're calling it these days. Nothing makes us happier than spending a weekend together discovering old treasures and turning them in to something new. Except having bacon and then going junking. Or having bacon WHILE junking. That might make us happier.
MAKE A DECORATIVE TRAY WITH THE CRICUT EXPLORE
Having a Cricut Explore in our lives has made creating new projects even MORE fun (and about 10,000 times easier) so today I wanted to share one of our favorite projects with you. We bought the cabinet door for $6 and the cabinet handles for $1 each at our local Habitat for Humanity ReStore. If you have one near you and love DIY get yourself over there right now!
What tickles me is in the video I talk about working on projects while we are watching TV together. That is EXACTLY how this project came to be! We bought the cabinets and I knew I wanted to make a serving tray but I had no idea what I wanted to put on it. So I sat with my ipad on the couch and picked out the phrase and the font and the sizing and such while we were watching a movie together. I LOVE that.
SUPPLIES NEEDED:
Cricut Explore Air (but this could be created with any of the Explore or Maker machines)
cabinet door
wood putty and putty knife
sandpaper
screwdriver
drill and drill bit
spray paint
two drawer pulls/handles
clear varnish and brush (optional)
TUTORIAL: HOW TO CREATE A CUSTOM DECORATIVE TRAY
1. Remove handle from cabinet door with screwdriver and fill holes with wood putty. Allow to dry, then use sandpaper to smooth.
2. Spray paint all sides of the cabinet door with spray paint. Allow to dry. (Excuse me while I weep…this is the house we just left in Washington State. This was our side yard. Heaven I tell you!)
3. Drill holes on the short sides of the door and attach drawer pulls/handles.
4. Want to create this exact project? Head on over to Cricut Design Space and select Upcycled Serving Tray.*
5. Measure the "inside" (flat) portion of the cabinet door. The image in Design Space is 11.5″ x 23.5″ – so if your flat surface is smaller select the Customize button to resize before cutting, otherwise select the Make It Now button.
6. Follow the instructions in Design Space to cut the phrase from the vinyl on your 12×24 mat. Remember to set your SmartSet Dial to vinyl!
*Want to create your own phrase/image? That is easy to do in Design Space!
7. Use the weeding tool to weed the negative space – leaving only the bon appetit phrase.
8. Cut a piece of transfer tape that is a little bit bigger than the phrase. Peel off the backing and place the sticky side of the tape on top of the phrase, using the scraper from the Tools Set to smooth.
9. Peel the entire tape/phrase from the vinyl backing. If vinyl is not sticking to the tape use the scraper to burnish until vinyl comes away from backing easily.
10. Place tape/vinyl on top of cabinet door and center the phrase on the flat surface.
11. Use scraper to smooth the transfer tape and help the vinyl attach to the door. Slowly peel away the transfer tape. Note – I kept the entire phrase together to place it on the tray, but once I'd peeled away the transfer tape from the "bon" I cut it off.
12. Apply clear varnish to the entire surface if you'd like to make the tray water resistant.
And voila! You've got a cabinet door tray that is ready for your next party – and would be SO CUTE customized with a last name for a housewarming or bridal shower gift! We also saw this fun idea at one of our local stores – LOVE the silverware as handles idea!
And…since I've talked about Don every day this week and Bizzy Bee was in the video on Monday I might as well throw this in here too! Pretty glamorous photo shoot – no?
If you love using vinyl then check out a few of our other favorite vinyl projects!