If you've been hanging out with me the past few months you know I've had a studio makeover in the works. More of a move and a downsize I guess…I willingly gave up my giant 15×30 craft room in the basement for a 13×14 room on our main floor! This girl needed light! And to be near the kitchen. Because that is where all the snacks are.
I hosted a FB Live earlier this week to give everyone a tour…
but I also wanted to share a few photos here too. Some of the features in my room got lots of love so I wanted to tell you a little more about them!
I wish I could say I came up with the idea for vinyl gutter ribbon storage on my own – but all the credit goes to Vintage Chic Home. I have struggled for YEARS with what to do with my ribbon (I had it on 4′ dowels before this) and this is SO MUCH BETTER. It cost us about $30 all told and because it can be customized and cut to fit any space it really is the most versatile ribbon storage I've ever come across.
Because I moved in to a space that is less than half the size of my old studio I use every square inch. I started by moving in all of my large furniture pieces first, then my smaller furniture and large storage pieces, then my smaller storage pieces, artwork and photos. Everything goes to the ceiling and surprisingly I still have room for more if I need it!
With the exception of certain themes (baby, wedding, Christmas, etc) I store everything by color. That is the way I create so it made sense to organize products to match the way my mind works! Unfortunately the IKEA CD holder on the left isn't made any more – but there are tons of creative ways to store your stuff. I created a studio makeover Pinterest board a few months back and share some cool storage/organization ideas there.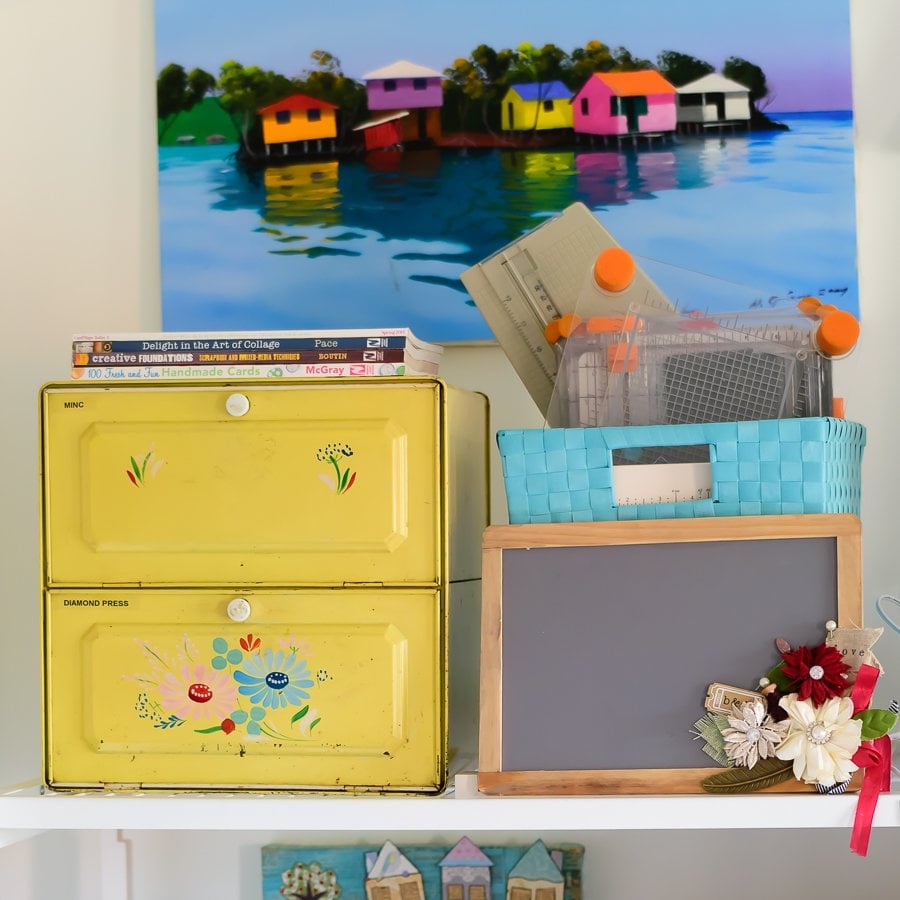 Vintage, vintage and more vintage! I love scouring antique and thrift stores looking for cool new ways to store my supplies. An old scale (top left) is the perfect way to store my 6×6 pads, my Project Life supplies are neatly tucked away in an antique fruit box (top right) and a vintage cracker keeper (bottom left) stores my Minc supplies in one compartment and my Diamond Press supplies in the other. Because I have a yellow/teal/white color scheme I keep my eye out for anything in those colors, but don't forget that a can of spray paint can turn anything in to a customized home storage piece!
For other studio projects I've completed over the years check out these blog posts:
Customized Plastic Storage Drawers Custom Wall Art with Cricut Drafting Table Makeover