Are you throwing a Halloween party and want to make a treat that is gross looking but still taste delicious for your friends to eat? Then learn how to make your own Rice Krispie Treat Poop!
Yep! This is happening. I made these for a Halloween party and was so giddy about it (see video below) that I wanted to share the recipe and the hilarity – your kids will LOVE to help you make these and LOVE to help you eat them even more! Seriously. They are delicious. I almost didn't have enough to take these photos because I kept eating them. Soooooooo good.
INGREDIENTS:
6 cups Rice Krispies cereal
3T butter
1 pkg (10oz) mini marshmallows
1 pkg (12 oz) semisweet chocolate chips
2T shortening (I use Crisco Baking Sticks because they are easy to measure out)
OPTIONAL: candy corn – if you want to get REAL gross
how to make rice krispie treat poop:
Make a batch of Rice Krispie Treats – do NOT press them in to a pan.
While Rice Krispie Treats are still warm divide them in to 3-4 sections and roll them out in to oblong "tubes". Or…ummm…poop. There are several ways to do this – you can press the treats on to a piece of wax paper then roll and lengthen the "tube", or you can roll it between your hands. Like we used to do with playdoh back in the day!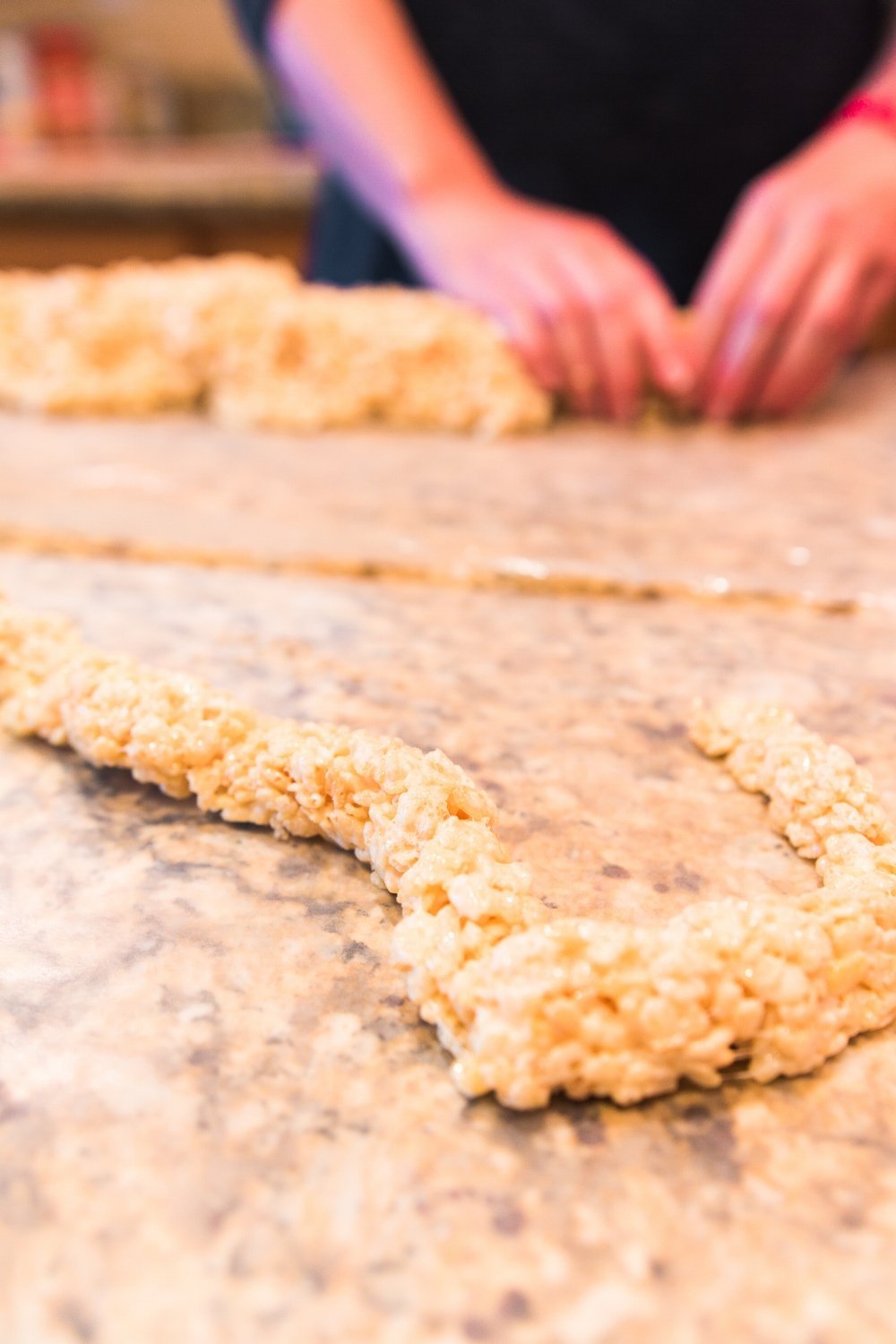 Shape the tubes in to whatever "poops" your little heart desires and let cool. I made piles and individual pieces. Aannnnnnddd…this is officially the weirdest blog post I've ever written. 🙂
Put chocolate chips and shortening in a glass bowl. Microwave in 30 second increments, stirring each time, until just melted.
Dip each "poop" in to the chocolate until covered. I used a slotted spatula to lower the pieces in to the chocolate and and then spooned the chocolate on top until covered.
Set on wax paper and refrigerate to set.
If you want to get really gross – while the "poop" is still warm use a knife to cut off the yellow sections of the candy corn and press in to the chocolate. Get it? Its corn. In poop. I can't make this stuff up!
Looking for some other gross Halloween snack ideas? Lay your eyes on these beauties! WARNING: Some of these are grosser than rice krispie treat poop. Don't say I didn't warn ya!
Shrimp Cocktail Brain from Martha Stewart Vampire Blood Lollipops from Instructables Puff Pastry Intestines from Fabulessly Frugal Dirty Earwax Q-Tips from She Saved Stuffed Cockroaches from Nerdy Mamma Jellied Eyeballs (non alcoholic) from Jelly Shot Test Kitchen
IF YOU ARE LOOKING FOR ANOTHER Halloween project TO MAKE, THEN CHECK OUT OUR Teal Pumpkin Project Printable!