Learn how to create your own Christmas Ornament String Art, just in time for the holidays, using some wood and our FREE printable pattern!
Hey everybody – Don here. I don't know why but ever since string art became popular on Pinterest and Instagram I have been fascinated by it and wanted to make some of my own. It took me a while to figure out how to make a pattern and do the weaving, so I wanted to share so you wouldn't have to reinvent the wheel if you wanted to try it yourself. Below you will find a link for two free patterns – an ornament and a tree – that you can print out and use. I hope you enjoy!
supplies needed:
Reclaimed lumber – we bought an old board at the Habitat Re-Store for $1 and got 13 pieces out of it.
#5 Nylon Thread – various colors
7/8 x 17 Wire Brads (silver nails) and/or 3/4 x 18 Estucheon Pins (brass nails)
Ribbon
Printable Pattern (click to download)
Tweezers
Scissors
Hammer
Saw
how to make Christmas ornament string art:
Cut the board in to 3″ x 4″ blocks. Print the pattern and trim to fit the board, then tack it down to the boards with a couple of the nails. Now put a nail in every mark on the pattern. Leave the nails long but make sure they are firmly seated in the wood. This way we can pull tight on the string and pound them in at the end to tighten up the weave. Rip off the pattern and get ready to weave.
For the tree – start with the brown string at the base of the tree and tie it in a tight knot around one of the bottom nails. For the ornament – start with the red string and tie it around one of the nails near the top of the circle (see where we used the red string in the image below).
Once you are happy with the pattern tie the string off. A tip: cut the string a little long, tie a tight knot (this is where the tweezers come in handy), and then trim the string tight. Now change string colors and repeat – weaving the other area of the pattern.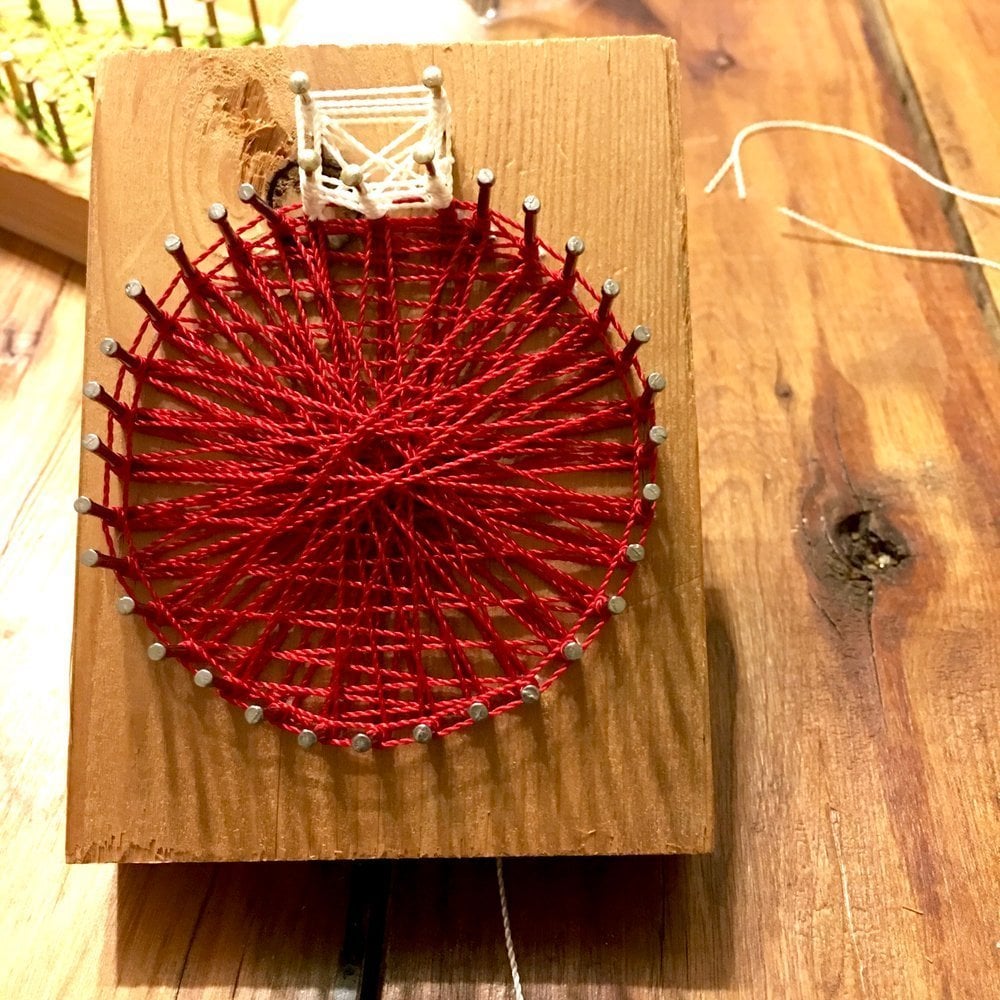 Once you are done weaving and all knots are tied, pound the nails down in to the board, we left about 3/8″ of the nail exposed. Cut the ribbon to make a loop, double over the ends and drive a nail in each side.
Sand any rough edges and enjoy your new Christmas decor. These are great as tree ornaments or you can leave the ribbon off and set it on your mantle. Also a cool idea for place settings at your holiday dinner table!
Looking for other reclaimed holiday projects? Check out a our Christmas tree project!