If you love Anna Griffin, then you will love today's post! Today I am giving my recap of Anna Griffin's Create which is unlike anything else in the industry!
For the second year in a row I was so ridiculously lucky to teach at Anna Griffin's Create – an exclusive, special, elegant crafting event unlike anything else in the industry. There are probably other recaps/reviews out there…but I feel PRETTY sure that there are no "I was a teacher/I am a huge Anna fan/I also like wine" reviews out there – so here we go!
The opening night dinner was everything you'd imagine an Anna Griffin event to be. Gorgeous decorations, flowers everywhere, little gifts for each attendee and much more.
Anna had a full program planned for the evening but that went out the window when Bill Brand, the President of HSN, showed up to surprise her! The whole thing was orchestrated by Shivan Sarna and was so much fun – Anna is almost impossible to surprise!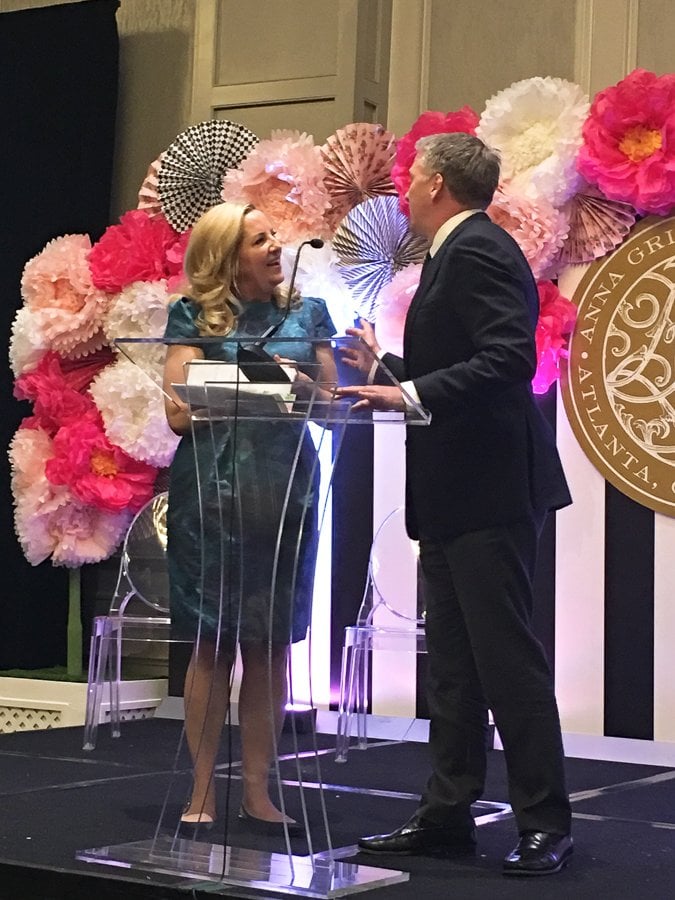 Now is where I admit that Amber (of Damask Love) and I had NO idea Bill Brand was coming or that he was sitting at our table until AFTER we had each had a martini and a glass or two of wine AND agreed to get up on stage in front of everyone and play a game (which was why we were drinking so much wine). Soooo…there you go.
The game was a craft version of $25,000 Pyramid where Amber and I had to describe craft products to our partners for a chance for them to win prizes. Amber and I are VERY competitive and both naturally very LOUD people – there was the whole drinking thing AND they gave us microphones AND we both felt a lot of pressure to win for our partners – so it was pretty spectacular. And by spectacular I mean a LOT of yelling and gesticulating and bouncing up and down in our seats and insulting each other (with love). Don yelling "Don't shame the family" just as my timer started certainly fueled my victory – but for all I know he was talking to Amber. 😉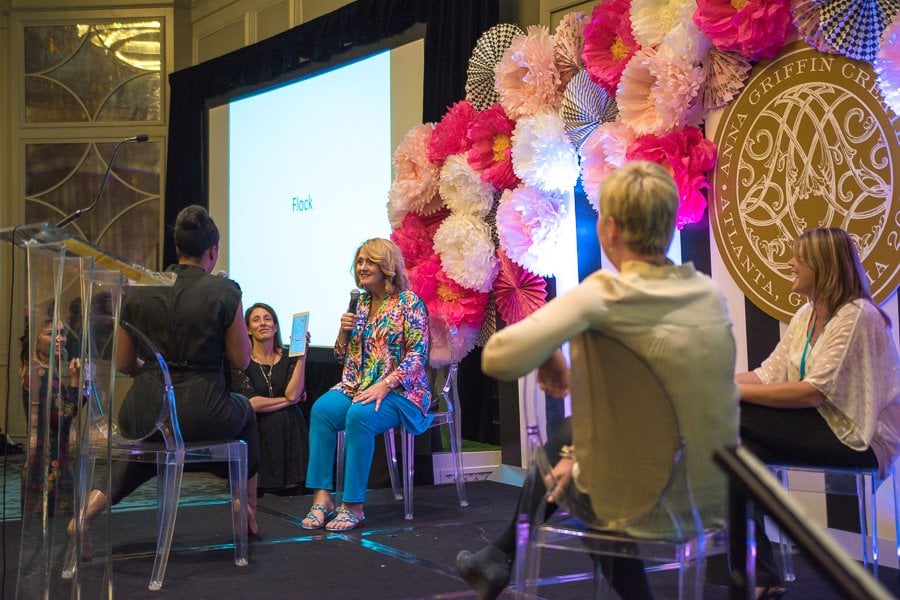 I was lucky enough to teach a Cricut class again this year – and the attendees were just as fabulous as I remembered! Teaching classes is absolutely my favorite part of my job, and even when things didn't go QUITE as planned (like when the internet to our classroom went out for several hours and – you know – the ENTIRE CLASS is based on being on the internet) everyone was patient, happy to be there, and a joy to be around. When the internet WAS working we made some kick ass projects – including a gold wreath and monogrammed glass coasters!
Don is making me post this photo to show you that I am just as messy when I'm teaching as I am when I am in the green room at HSN. I am telling you – at home I am NOT like this!! I swear!!
Thinking of attending Create next year? Want to see more fabulous photos? Anna Griffin has a special Create Facebook page filled with great slideshows of events throughout the weekend. There are so many things I haven't even touched on – the make and takes, the goodie bags, the craft room, the tour of Anna's offices (and the warehouse sale), but every year I come back for the same reason. The people. Mothers and daughters, neighbors, crafting friends meeting for the first time in real life, there are so many wonderful stories and so many kind and caring people – I keep coming back year after year because the weekend reminds me of what a wonderful industry this is and how lucky I am to be a part of it. I hope you will join us!