Turn sparkly foam hearts and pipe cleaners into Pink Flamingo Valentines! This no-mess project is perfect for kids and is easy to make!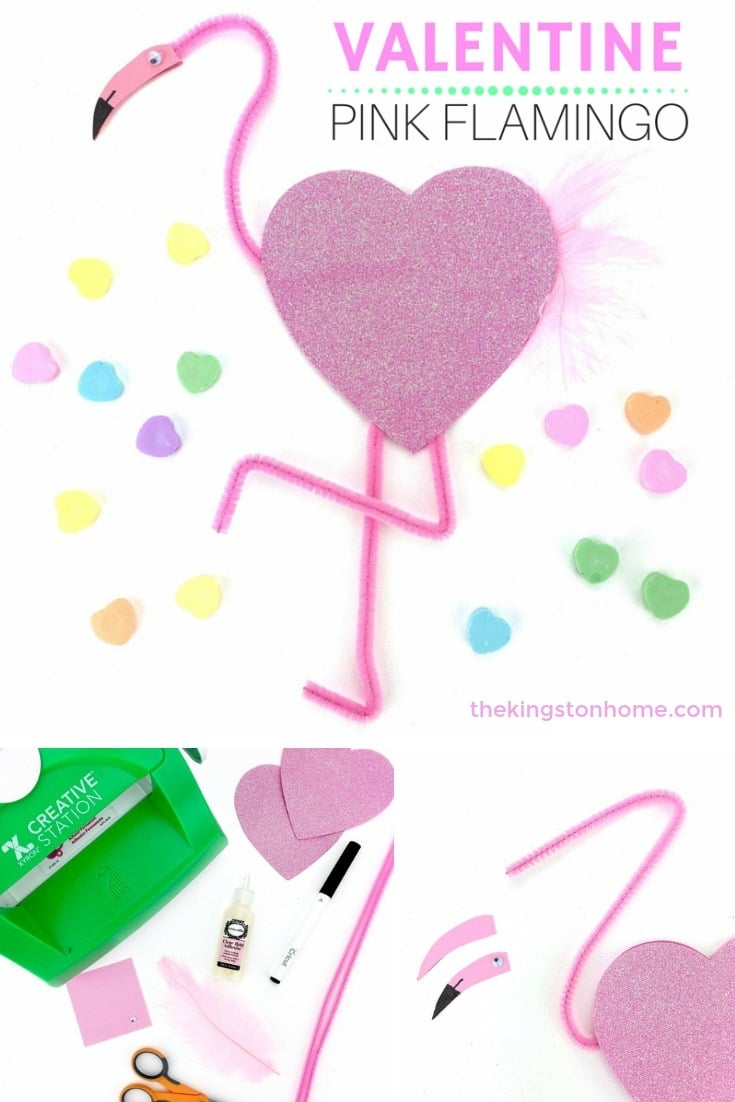 Last week on HSN I shared a series of Valentine's Day craft ideas – including this guy. I found him on (of all places) the National Wildlife Foundation website – and although they shared a set of directions we ALL know everything is easier with your handy Xyron machine! So – as requested – here is my latest obsession. I present to you the Pink Flamingo Valentine!
SUPPLIES NEEDED:
Xyron 5″ Creative Station – you could also use the NEW Xyron Creative Station
two (2) sparkly foam hearts (I bought mine in a 12 pack at Dollar Tree)
two (2) pink pipe cleaners
one (1) pink feather
small piece of pink cardstock
one (1) googly eye
liquid adhesive
scissors
black pen – I am currently obsessed with this set from Cricut
Insert one heart through the Xyron Creative Station – sparkly side up. Remove clear film and set aside.
Lay second heart sparkly side down on your work area. Fold one pipe cleaner in half for the legs, and form the other in to an Z shape for the neck (you will adjust these later) cut feather in to halves or thirds and lay one piece of feather and both pipe cleaners on the heart as shown.
Peel "sticky" heart from backing, line up with heart on your work area and press down to adhere. This will hold the pipe cleaners and feather in place.
Freehand cut two identical pieces for the head. Adhere the googly eye to one piece with liquid adhesive and use the black pen to draw the beak on the same piece.
Apply liquid adhesive to the second piece and adhere pieces on either side of the pipe cleaner.
Adjust pipe cleaners in to desired position – be sure to fold the feet!
This is a great (and pretty mess-free) project to do with the kiddos…anyone need a last minute idea for a class party? You are welcome. 🙂 Enjoy!