Do you need a place to store your jewelry? Then learn how to turn a plain wooden paper towel holder into the perfect bracelet holder, with just a few coats of spray paint!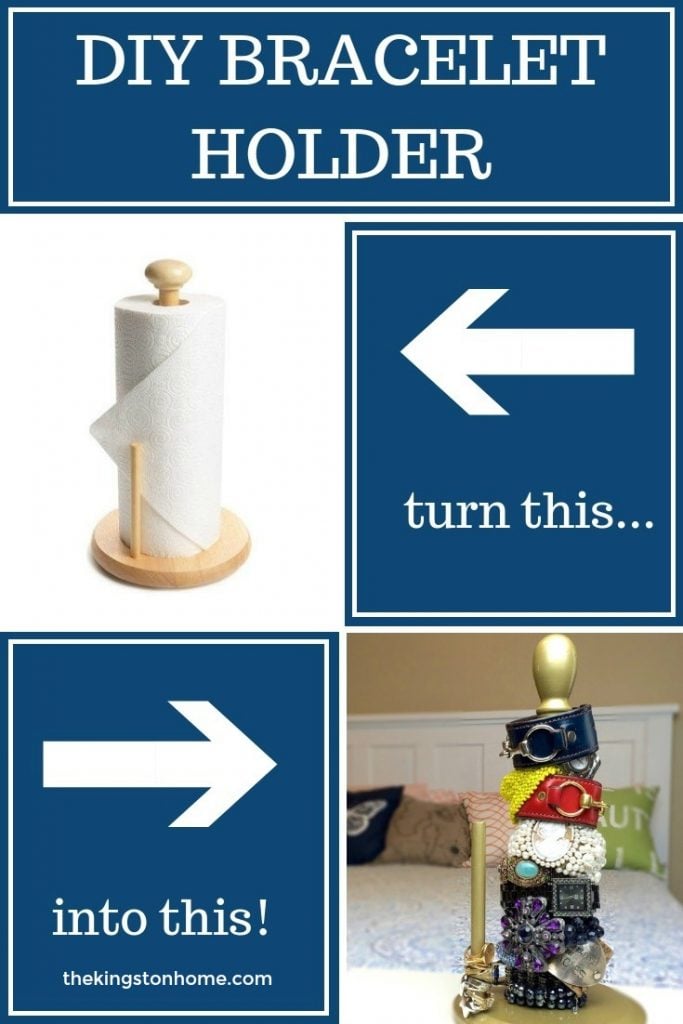 As you know this move has been…ummm…a challenge. This house is different than any other place we've lived in and after lots of trips to Tuesday Morning and Home Goods and Hobby Lobby and yadda yadda yadda I just started feeling like we were bleeding money to make this house feel like home.
And then one day I wandered in to the spray paint section at Lowe's.
Now I've always KNOWN about spray paint, and I've even used it in a project or two – but GOLD? Being able to spray paint plastic? Am I the last person in the world to know these things? Thus began my new obsession with spray paint. I whipped up this little beauty in about 10 minutes – and over the next few weeks I will be sharing all kinds of projects – from home decor to organization to patio furniture and more – ALL created using things we already owned and a few cans of spray paint! It is a little ridiculous how happy this makes me.
All you need is a wood paper towel holder…
and one can of spray paint – I used Rust-Oleum Universal Metallic Pure Gold spray paint…
and in just a few minutes (plus drying time) you've got a custom bracelet and ring holder that you can match to any decor!
And just so you don't think we're getting too fancy around here…I give you our standard "behind the scenes" shot. Hey Bizzy Bee.
So grab a can and some old household junk – can't wait to see what you create!