Looking for a simple headboard DIY that you don't need a team of craftspeople to build? Then learn how easy it is to turn an old reclaimed door into the perfect headboard for any size bed!
Hey everyone, this is my first attempt at blogging, and it shows due to my lack of pictures of the process. Regardless, I hope that you find this blog helpful in putting together your own recycled door headboard. You can find the instructions here, and if you are unable to download it from the link just contact us at [email protected] and we can email it to you directly. Please let me know if I can answer any questions if you are thinking about building your own headboard or need some help along the way. Good luck and happy building!
We had been looking for headboards for both our guest bedroom and our own bedroom for quite a while. Beth loves catalogs like Pottery Barn and we both like antiques, but we aren't crazy about paying the sometimes ridiculous prices. Beth found a headboard on Pinterest several months ago, and after looking at the Anna White Queen Headboard plans that the original poster used we headed out to a local salvage yard to find some reclaimed wood. What we found was something even better (albeit a little more challenging), some old doors with great distressing and character.
TIPS ON BUILDING YOUR HEADBOARD:
Before I show you how to build a headboard from an old door, I wanted to briefly share a few tips about choosing your door and building a headboard for your specific bed frame. This is because not all doors and bed frames are the same, and they both are a crucial part when it comes to building the headboard.
Tip 1: Look at your bed frame design:
When it comes to beds, do you have a metal bed frame, platform bed frame, wooden bed frame, or something else? Considering the type of bed frame you have may sound obvious, but it's a detail that you can easily overlook. Knowing how your bed frame is designed can help you build a headboard that works perfectly with your bed. Plus, you may need to make a few adjustments to our instructions if your bed frame has a modern design.
Tip 2: Decide what style of headboard you want to build:
Are you wanting to make a modern headboard, an elegant headboard, or a natural headboard? Knowing what headboard style you want to build can help you pick out a door. For example, if you want a modern headboard then you may want to go with a door made of dark wood, or if you want a natural headboard, then you may want a door that has a classic design.
Tip 3: Look for a "high quality" door:
When I say "high quality" I am not saying that your door needs to be brand new and in perfect condition. However, since the door is going to be your new wooden headboard, I do believe that you should try to find the best one possible for your bed base. When looking at doors I would consider the following:
What type of wood is the door made out of (like walnut wood, poplar wood, etc.)?
Does the door have any type of odd paint or coating on it? – In this case, I am referring to toxic finishes, harmful substances, or harsh chemicals (like lead paint). You can find tons of videos and blog posts about how to check vintage items for toxic substances or toxic chemicals. So, when in doubt, do a quick test to make sure that your door has a non-toxic finish.
Bonus Tip: Make sure you have enough space to build the headboard:
Again this tip may sound a bit obvious, but a door can be a very large item (especially if you are making a king-sized headboard). Due to that, I would recommend working in a nice spacious area vs a small space. This is because you will have to clean the door, build the frame, paint, etc. For this project, I built the frame inside my workshop and then painted it outside in our backyard.
HOW TO BUILD A HEADBOARD FROM AN OLD DOOR:
BUILDING HEADBOARD:
We brought the doors home and after cutting them down to size (remember to see my instructions for detailed information and measurements for each step of the project) I built the legs and cap around the door.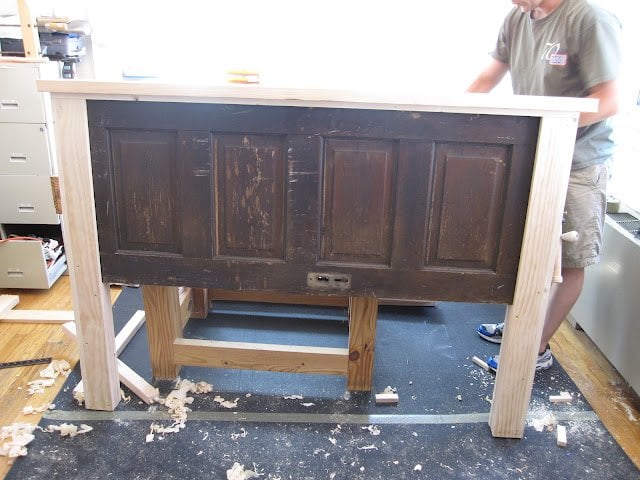 PAINTING HEADBOARD:
After building the solid wood frame, the next step was painting. Since these are headboards that are pressed against a wall I only painted the front-facing side. This is a good option if you want to make this a fast furniture build. Also, it was much easier and a big time saver because I could just lay it on the ground and paint one side.
For our guest room, I painted our queen headboard black because we were designing a modern bedroom. However, for our king headboard, we wanted to do something different since the room was going to have more farmhouse home decor.
Due to that, we wanted to retain some of the natural color and distressing of the door. So, I masked off the panels (to create a panel headboard) using painters tape and some of Beth's scrapbooking cardstock. Using these inexpensive materials is a great way or creative way to give your headboard a more "complex" look without spending tons of additional money and time.
NOTE: If you are looking for spray painting recommendations for creating non-toxic bedroom furniture, a great choice is either Krylon or Rust-Oleum.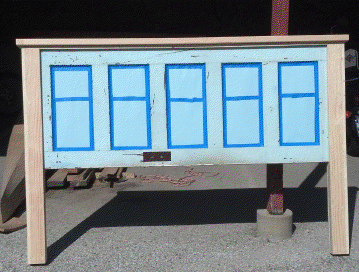 MOUNTING HEADBOARD:
After the paint dried it was simply a matter of mounting the headboard to the bed frame. For us, I was able to attach the headboard to the bed frame by drilling holes in the legs that match up with the bed frame. Then I inserted bolts and attach the nuts. However, depending on the type of "bed furniture brand" that you own, you may need to make a few adjustments like drilling more holes/using extra bolts.
Once everything was attached, we had some beautiful new headboards for a fraction of the price we would have paid for buying one.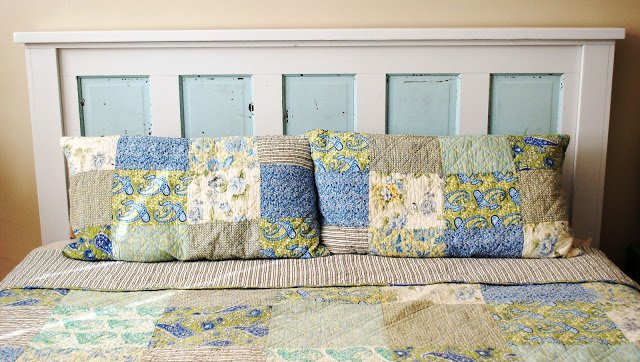 When looking at these two headboards it is amazing how a different paint color/style can change the whole look of your bed.
Thanks for checking out my first blog post, I look forward to your comments or questions. I hope you enjoy building your own headboard! Check out a few more of our favorite furniture projects below. –Don
How To Build A Headboard From An Old Door
Learn how to turn an old reclaimed door into the perfect headboard!
Materials
Old door

Lumber

Drill

Elmer's Wood Glue

Sandpaper

Finish nails

Nuts

Bolts

Spray paint

Tape measure

Pencil
Instructions
Step 1: Building The Frame

The door is the most important aspect of this project because depending on how you cut it, determines how the panels will be spaced out in the final product.

Before you start cutting your door, make sure you prep the door by washing and cleaning it.

Once your door is clean you can then move on to cutting.

For a king-sized headboard, you want a door that you can cut down to 76" and for a queen-sized headboard. you want a door that you can cut down to 60". As for the width, that is totally up to you and your sense of design.

From there, we built a frame to go around the door and removed any hardware from the original door. The measurements for the frame was based on the size of our door and the distance from the top of our mattress to the floor.

Step 2: Paint

After the frame has been built, you can now paint your headboard! We used a high-gloss Krylon spray paint and was able to do all of the coats in about 3 hours.

Step 3: Mount

To mount the headboard to the bed, first, drill holes into the legs that match up to your bed frame. Then, insert bolts and attach nuts.
ARE YOU LOOKING FOR ANOTHER DIY HOME FURNISHING PROJECT? THEN CHECK OUT OUR DRAFTING TABLE MAKEOVER!
Title:
How To Build A Headboard From An Old Door
Mentions:
cheap, DIY, frame, furniture, inexpensive, recycled, tutorial, tutorials, upcycled, vintage, wood
Last Updated:
February 8, 2023