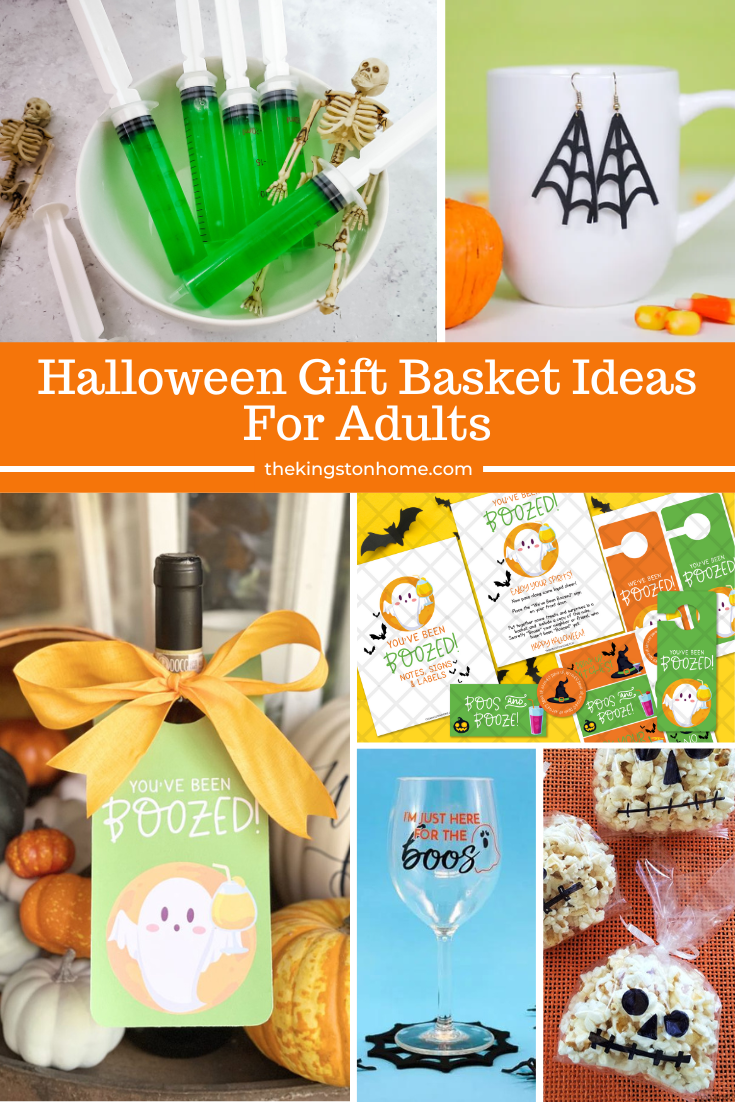 Are you looking for Halloween gift basket ideas for adults? Grab some sweet treats, a bottle of wine and our "you've been boozed" FREE printables. Let's create the perfect Halloween gift baskets for all the adults in your life!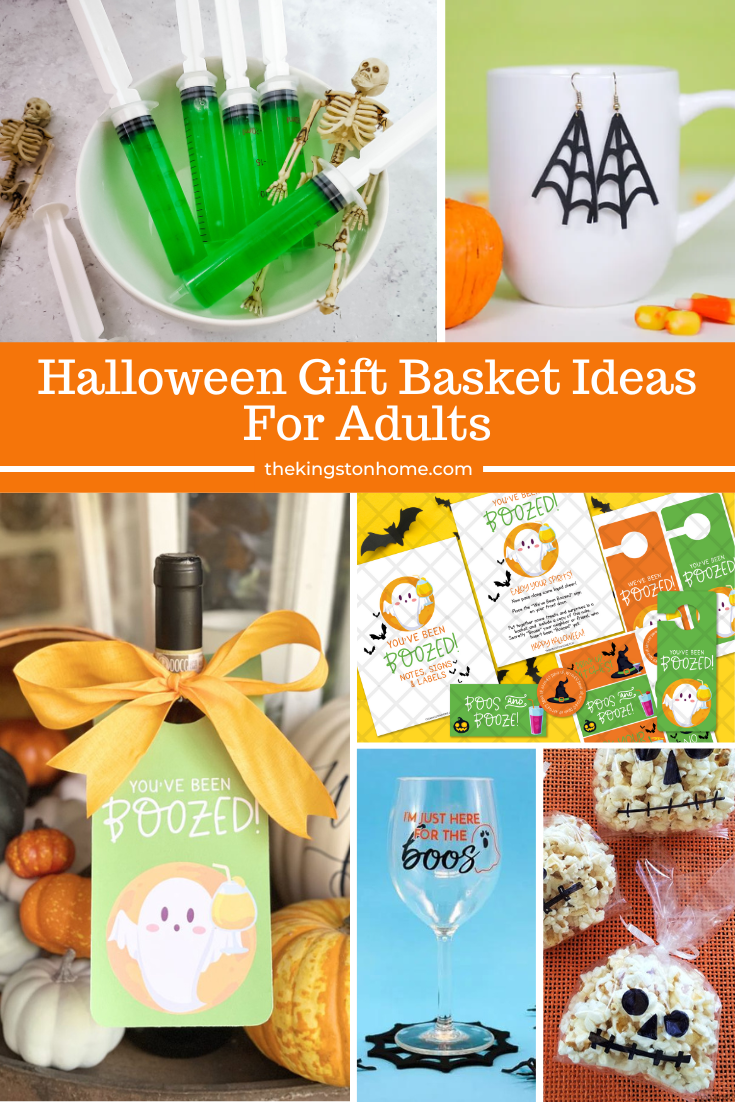 HALLOWEEN GIFT BASKET IDEAS FOR ADULTS:
Have you ever heard of a boo basket? A boo basket is a container filled with Halloween treats, small gifts, games/toys, and other seasonal items. This thoughtful Halloween gift is for both kids and adults and is usually given sometime throughout the Halloween season.
We can't forget about all the busy parents/neighbors who are making costumes, buying candy, decorating their yards and basically making Halloween happen. They are the true heroes of the season! Thank them for their hard work with a simple DIY for making custom Halloween Gift Baskets for Adults.
YOU'VE BEEN BOOZED WINE BOTTLE:
The best way to start your Halloween Gift Basket for Adults is with some FREE pintables! This PDF contains bottle (or door) hangers as well as fun tags and labels that can be added to other items in your basket. Even if you forgo the basket and just give a bottle of wine you'll be the most popular neighbor on the block!
GET YOU'VE BEEN BOOZED PRINTABLES:
To get your FREE You've Been Boozed printables simply enter your email address. The download link will be delivered right to your inbox. This will also sign you up for my e-newsletter (you can unsubscribe at any time) and you'll be notified when I release new free SVG files. You'll never miss a thing!
DELICIOUS HALLOWEEN GIFT BASKET: BIOHAZARD GREEN OOZE JELLO INJECTORS
Now that we've got the foundation for our gift basket, let's make some delicious Biohazard Green Ooze Jello Injectors. Tuck these throughout the basket for a touch of color and fun!
EQUIPMENT AND INGREDIENTS:
16 syringes for jello shots
1 package lime gelatin dessert
1 cup water
1 cup white rum
HOW TO MAKE BIOHAZARD GREEN OOZE JELLO INJECTORS:
1. Boil 1 cup of water over high heat.
2. Remove from heat and add gelatin, stir for 2 minutes.
3. Add rum. Stir well.
4. Insert syringe into gelatin mixture, pull the cap up to fill.
Chill for 2-3 hours.
Biohazard Green Ooze Jello Injectors
Equipment
16 syringes for jello shots
Ingredients
1

package

lime gelatin dessert

1

cup

water

1

cup

white rum
Instructions
Boil 1 cup of water over high heat.

Remove from heat and add gelatin, stir for 2 minutes.

Insert syringe into gelatin mixture, pull the cap up to fill.
MORE GREAT HALLOWEEN GIFT BASKET IDEAS:
Looking for even more items to put in your spooky Halloween gift baskets? Check out the projects below to get those creative juices flowing!
You can't gift wine and not include some wine glasses – so That's What Che Said created this adorable "Here for the Boos" SVG for use on all types of drink glasses.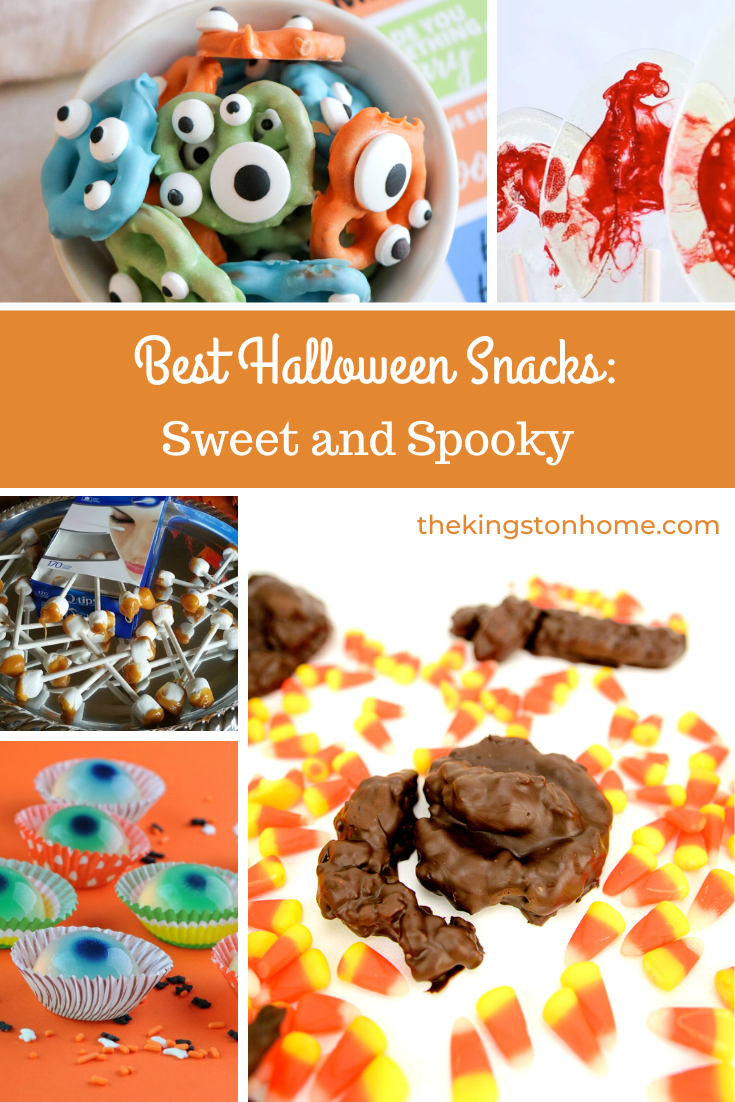 Halloween wine along with some treats would make the perfect boo bucket for any adult. Why not make the snacks spooky as well as sweet! We're sharing a bunch of our favorites (and some savory snacks for bonus points)!
Got family and friends who truly love the spooky season? These Faux Suede Spider Web Earrings (from Hey Let's Make Stuff) would be perfect for them! You can make a ton of these earrings in less than 10 minutes. Place them inside some small treat bags (for some extra cuteness), and then add them to your boo bucket.
Going with a sweet Halloween gift basket theme? This Felt Candy Corn Garland (from Hey, Let's Make Stuff) would be the perfect gift to include in the basket! It not only is a sweet gift but it can double as decor for your family or friend's next Halloween celebration.
Looking for a fun way to add some flair to your gift basket? These Printable Halloween Pennants from Brooklyn Berry Designs are a great option! They are not only easy to make but would be a cute way to celebrate all of the Halloween festivities.
If you are looking for even more Halloween gift ideas that would be perfect for all types of Halloween baskets, check out 100 Directions Halloween Ideas roundup! In her post you will find a list of ideas which include printables, delicious treats, decor, and more!
LOOKING FOR MORE LAST MINUTE HALLOWEEN PROJECTS FOR YOUR BASKET? CHECK OUT THIS BLOG POST:
Title:
Halloween Gift Basket Ideas For Adults
Keywords:
halloween gift basket ideas for adults
Last Updated:
October 28, 2022