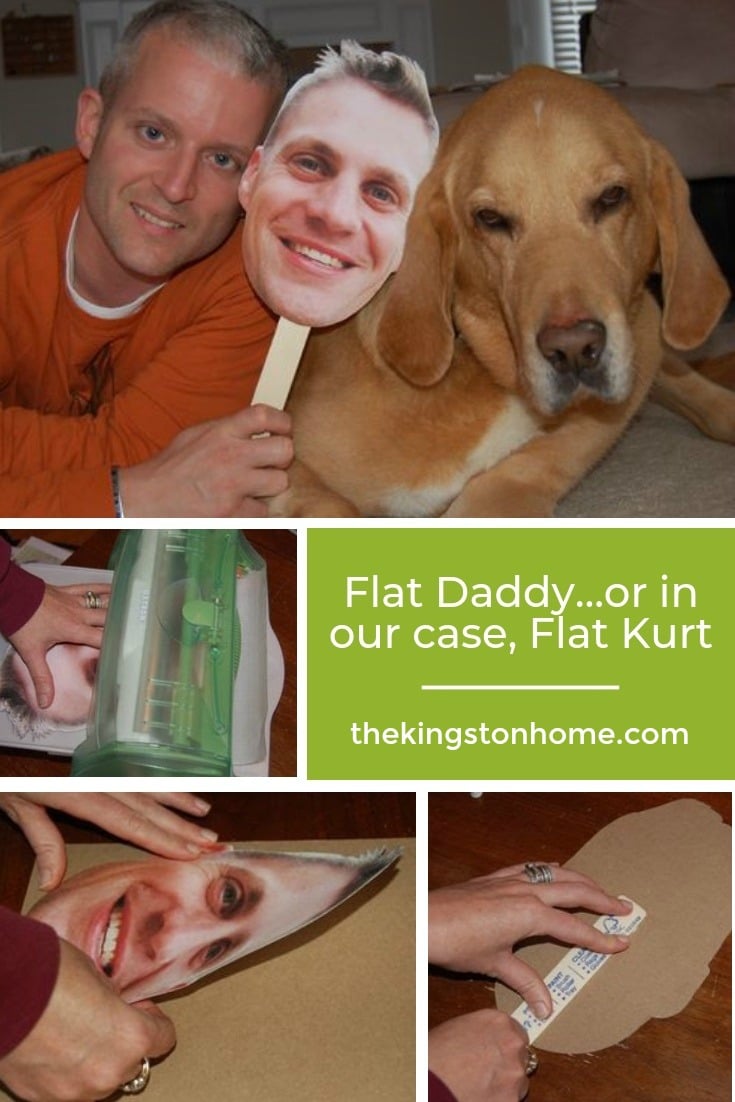 Flat Daddy refers to a cardboard cut out of someone who is absent from home due to being in the military. The purpose of creating a Flat Daddy or Flat Mommy, is to keep family members connected during times of deployment.
Today, I am going to show you how to create your own Flat Daddy using Xyron adhesive and a paint stirrer!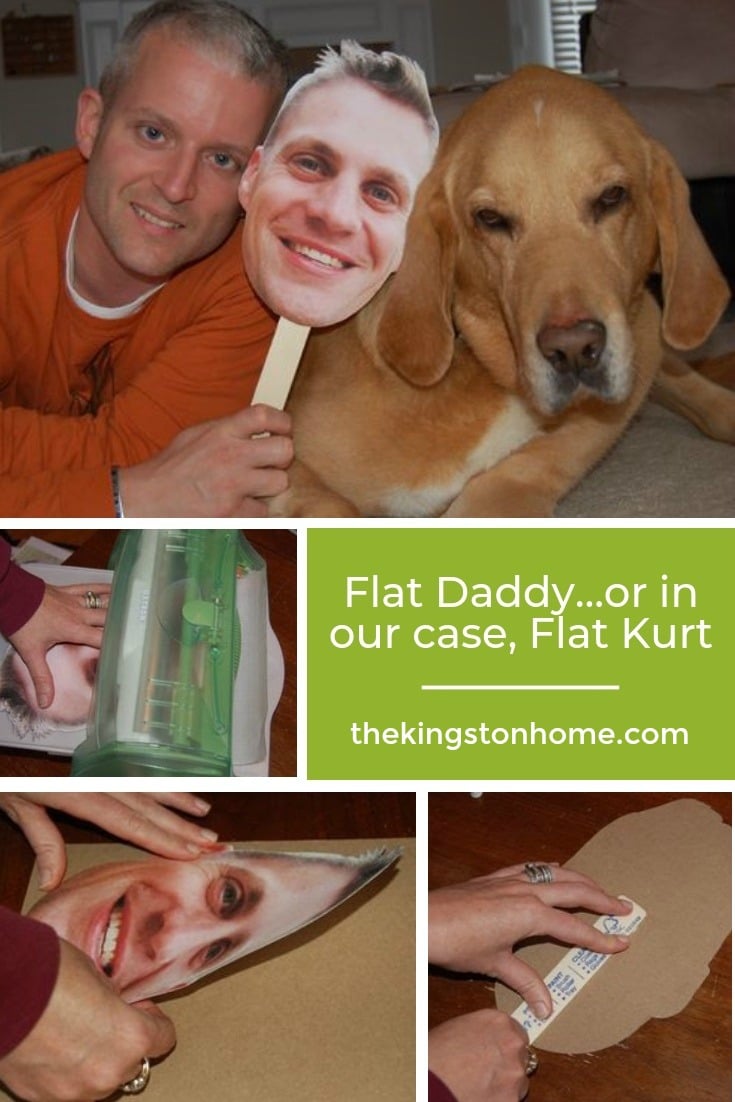 This is our friend Kurt.
Kurt is a funny friend, easy roommate (he accidentally lived with us for six months last year), great husband, wonderful father, getter of Dairy Queen after dinner, dog lover, motorcycle rider, and soldier.
Next week he is leaving for a year to Afghanistan.
His wife Shealyn is also funny and fabulous and I would do anything for her, so when she sent me this message and photo:
Hey crafty lady, if I were to send you a good photo of Kurt, could you use your sticky goodness to make me a few of these so Daddy can go everywhere with us?
I was in. I have been lucky enough to have Don home with me for the past year and it is a blessing I do not take for granted. So while I would make a million of these if it would help some of my fellow military families make deployment even a tiny bit easier, I wanted to post the instructions here (even if you don't think you are crafty it is VERY easy) for anyone who wants to make their own.
SUPPLIES NEEDED:
photo
Xyron 9" Creative Station
chipboard
scissors
paint stirrer
tacky glue
How to create flat daddy:
1. First, I took Kurt's photo and cropped it as tightly around his head as I could.
2. Then I printed out several copies on to 8.5×11 photo paper.
3. Now…here is where I am revising my original instructions – which were to cut out the face, put it on the chipboard, then cut it out again. Why do it twice? So sort of ignore the fact that the face is already cut out in some of the photos. 🙂
I ran the 8×10 photo through my Xyron 9″ Creative Station*,
adhered the 8×10 on to a piece of chipboard (you can use an empty cereal box in a pinch)
and cut out the face – for the FIRST time. (to quote Don: "Kurt needs to shave his head. I can't cut out all these little pieces of gelled hair.")
5. Then I just took a paint stirrer (they are free at any home improvement store), added a little glue, and let dry!
*if you don't have one of these you can use a glue stick or a tape runner – just be sure to cover all of the edges as smoothly and evenly as you can.
I had to put these in the mail ASAP – Don was having a little TOO much fun with them. Our dog – as you can see – was not. 🙂
So these Flat Kurts are on their way to Texas – to two precious children who will spend the next year doing what military children have done for generations – growing and learning and playing and loving all while waiting for the day that their daddy is home to give them bear hugs and tuck them in at night. If you have a friend, family member, neighbor or co-worker getting ready for a deployment with small kids, ask for a photo of their soldier and make a few of these. What a wonderful gesture and tangible way to let them know you are thinking of their family.
Love you Kurt and Shea and James and Sammi – already waiting for the day Kurt is back home safe with you.
IF YOU ARE LOOKING FOR ANOTHER military INSPIRED PROJECT TO MAKE, THEN CHECK OUT THE POST BELOW!