This post has been sponsored by the makers of ZIPLOC® Brand + NESTLÈ® TOLL HOUSE. All thoughts and opinions are my own.
There are so many things I love about Christmas but if I had to pick one, it would be the kindness people show one another throughout the season. We love to give little gifts to our neighbors filled with homemade Christmas snacks—and this year, we are using Ziploc® Brand Slider Bags and THE most amazing NESTLÉ® TOLL HOUSE Peppermint Filled Baking Truffles (seriously—they are addicting!). We whipped up a batch of reindeer chow that is the perfect combination of minty and chocolatey. Best of all—we're sharing a free printable to make it easy to start your own neighborhood tradition. Move over Santa—the reindeer are getting the treats this year!
EASY CHRISTMAS SNACKS: REINDEER CHOW
I found these NESTLÉ® TOLL HOUSE Peppermint Filled Baking Truffles at Walmart. My local Walmart has a special section just for holiday baking, and it has everything from spices, to fun sprinkles, to flavored mixes, and more. Next time you go to Walmart, head over to the holiday baking aisle and just grab all the goodies!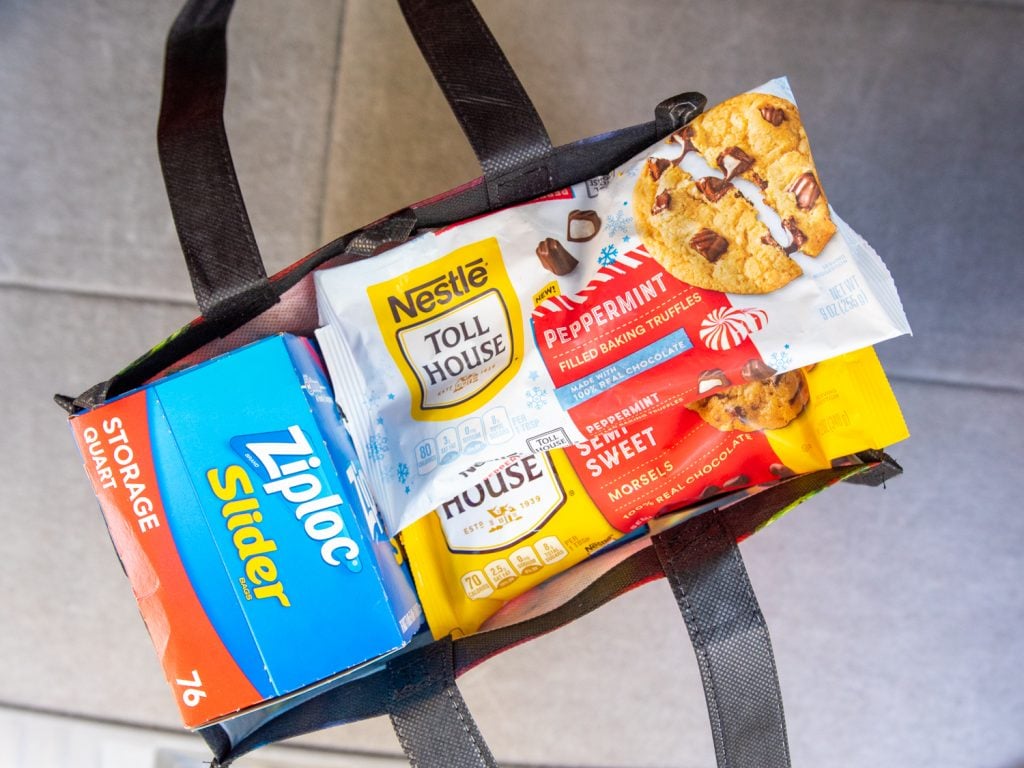 This was my first time using the Peppermint Filled Baking Truffles, and big tip is you're going to need to buy two bags because you will eat the first one like candy! They are so good! They have a thin chocolate outer shell with a minty center, and they melt beautifully in any recipe. We created this reindeer chow mix Christmas snack with the Peppermint Truffles in mind, but they would work beautifully in almost any holiday recipe. Simply replace your chocolate chips with Peppermint Truffles—can you imagine how delicious cookies or brownies would taste with these? Or hot chocolate? GAH!!!!!!
REINDEER CHOW INGREDIENTS:
9 cups rice square cereal
1 pkg NESTLÉ® TOLL HOUSE Peppermint Filled Baking Truffles
1 ½ c powdered sugar
5 cups yogurt covered pretzels
2 cups red and green candy shell covered chocolate candy
NESTLÉ® TOLL HOUSE Semi-Sweet Morsels (optional)
REINDEER CHOW DIRECTIONS:
Line a rimmed baking sheet with parchment paper.
2. In a double boiler or microwave, melt Peppermint Filled Baking Truffles. *If you want a lighter peppermint/more chocolatey flavor, add Semi-Sweet Morsels before melting.
3. Pour melted baking truffles over cereal and gently stir until covered.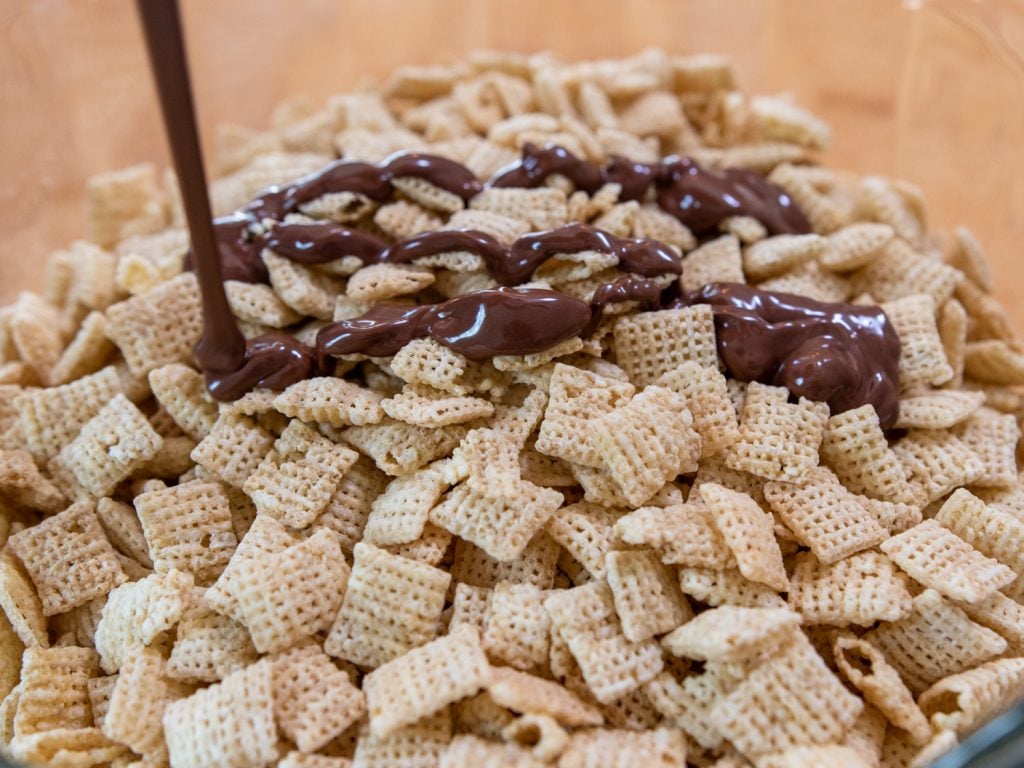 4. Use sifter to add powdered sugar to cereal mix and gently stir until covered.
5. Add chocolate candy to mix.
6. Put yogurt pretzels into Gallon Size Ziploc® Brand Slider Storage Bag and seal. Lay bag on your work surface and gently break pretzels apart using a wooden spoon.
7. Add pretzel pieces to mix and gently stir until blended.
8. Spread mix on to baking sheet and let harden at room temperature.
Serve in a bowl as a delicious Christmas snack party mix or pour in bags for neighbor gifts/party favors!
HOW TO MAKE FREE REINDEER CHOW PRINTABLES
SUPPLIES NEEDED:
Ziploc® Brand Slider Storage Bags, Quart Size (we used the Family Pack 76 count)
FREE printables (see links below) NOTE: These printable bag toppers are sized to fit Ziploc® Brand Quart Size Slider Bags.
8 ½ x 11 white cardstock (2 printables per sheet)
double sided tape
INSTRUCTIONS:
Whoever came up with this "stand and fill" bottom for the Ziploc Brand Slider bags is a genius. It made the bags SO much easier to fill, rather than trying to wrangle the reindeer chow into the bag while it was laying flat. Thank you product development peeps!
Fill Ziploc Brand Quart Size Slider Bags about ¾ full with reindeer chow and zip shut to seal.
2. Click on free printable file below to save to your computer. There are two printables per sheet.
3. Open file and print onto 8.5 x 11 white cardstock.
4. Cut out printables and apply double sided tape to blank side. Adhere to bag.