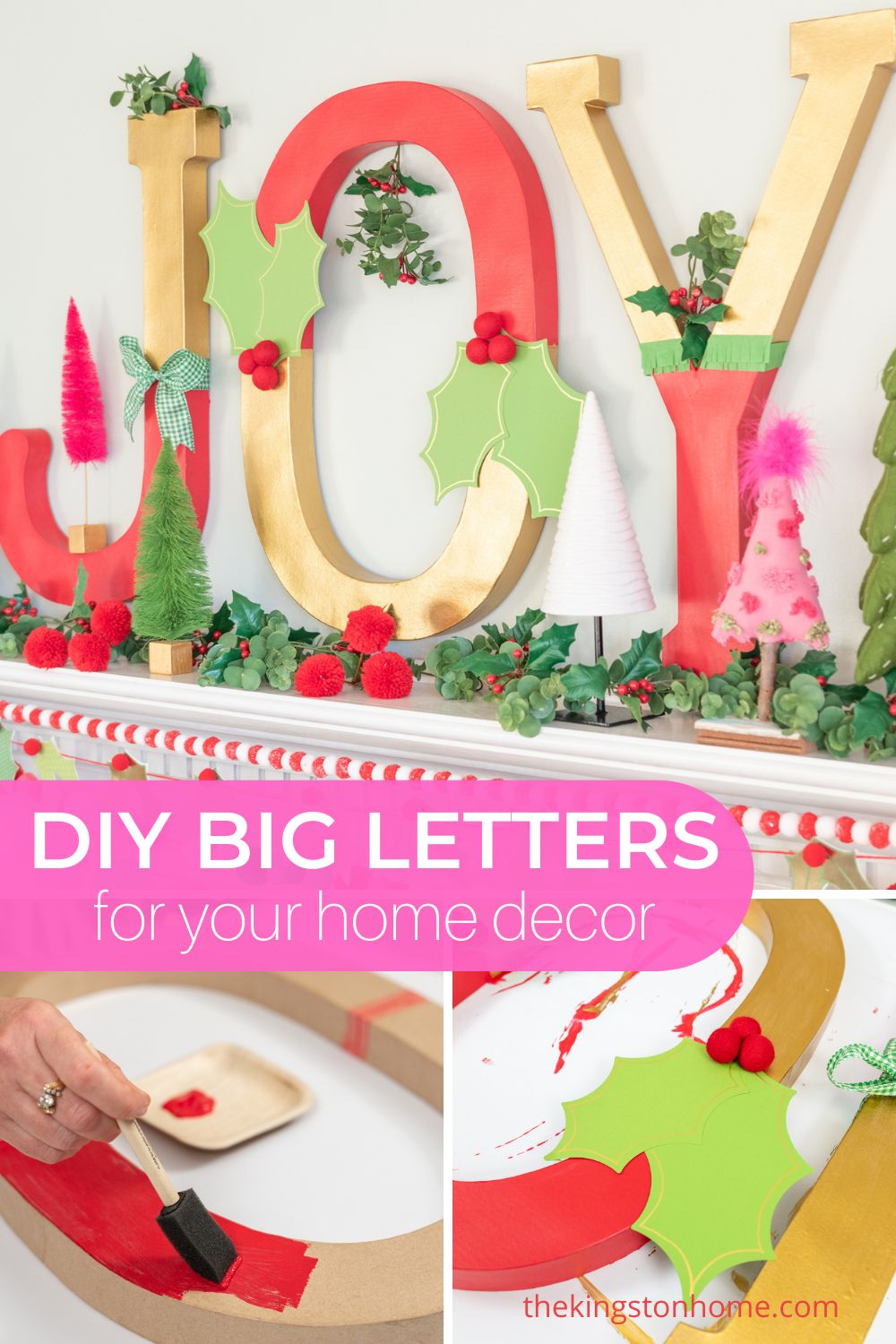 We've all seen those big letters in the craft stores. Have you ever wondered what to do with them? Today we're showing you how big letters can make a BIG statement in your home decor. For Christmas or any time of year!.
DIY BIG LETTERS FOR YOUR HOME DECOR
These paper mache letters from JOANN come in a variety of fonts and sizes. They are lightweight, take paint beautifully and are easy to hang temporarily so you can create a gorgeous focal point for any holiday or special event.. They take less than an hour to make (not including dry time) and can be painted to match any theme or decor so they are the perfect DIY project. So grab a few letters and let's make some home decor! (FTC Disclaimer: This post is sponsored by JOANN but the project and opinions are mine all mine! This post also contains affiliate links which means I may make a commission on sales at no additional cost to you.}
SUPPLIES NEEDED:
TUTORIAL: HOW TO PAINT BIG LETTERS FOR HOME DECOR
Wrap washi tape around each letter about halfway down from the top (adjust if you want to do multiple colors or if you want to feature more of one color than the other).
2. Paint one half of letter up to the washi tape. I always paint over a portion of the washi tape to give myself a clean line. Because these are going on the wall I did not paint the backs – but if you want these for a display where you will see the backs let the front dry for about 30 minutes then flip over and repeat.
3. Remove the washi tape. A good rule of thumb is to either do it immediately or wait 8-12 hours (overnight) so the paint isn't tacky and the tape comes off smoothly.
4. Apply new washi tape – lining the tape up with the first (in this case red) paint line so you do not end up with any exposed/unpainted chipboard between the paint colors.
4. Paint the second color then remove the washi tape (see #3 tip).
5. Cut holly leaves from green cardstock by hand or using a die cutting machine (I fit two on a 12×12 sheet of cardstock).
6. Line the outer edges with a gold pen, then adhere leaves where paint seams meet and add felt balls..
. You can set the letters directly on your mantel, or if you want to hang them (as seen in the photo) you can use 3M Command Picture Hanging Strips. These are a game changer!