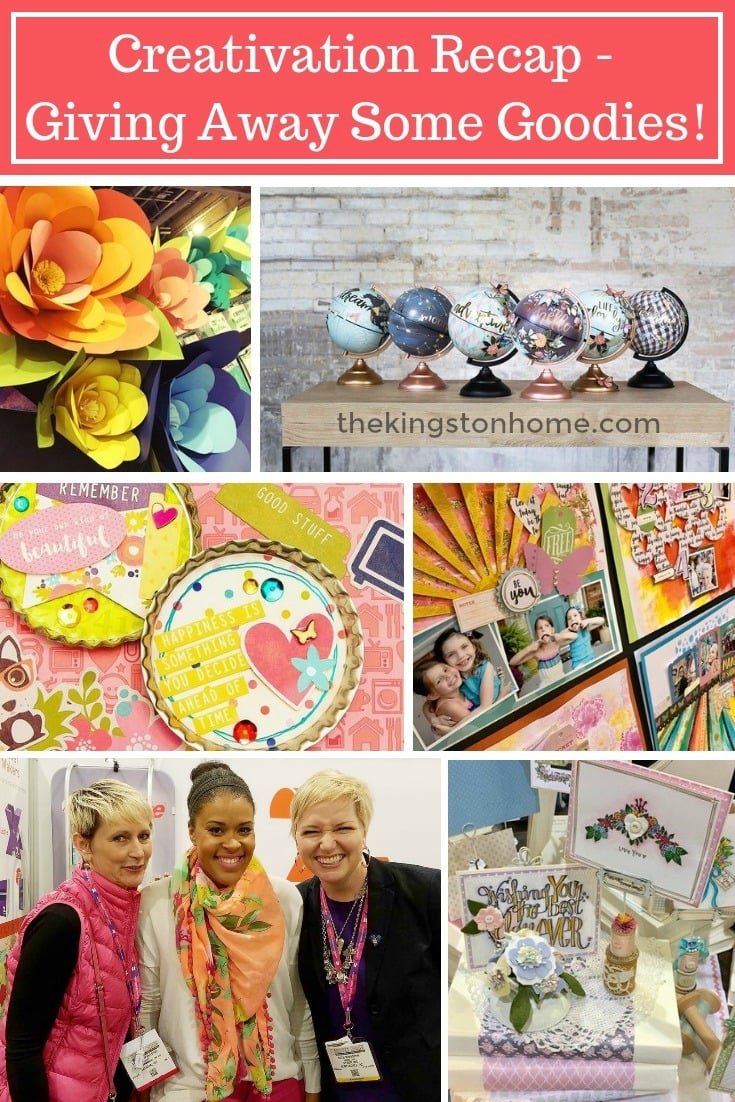 I'm back from Creativation (formerly CHA, now AFCI – Association for Creative Industries) and now that I've unpacked and gotten a good night's sleep I wanna share a quick recap and give away some goodies! {FTC Disclosure: this post contains affiliate links which means I may make a commission on any purchase – at no additional cost to you!}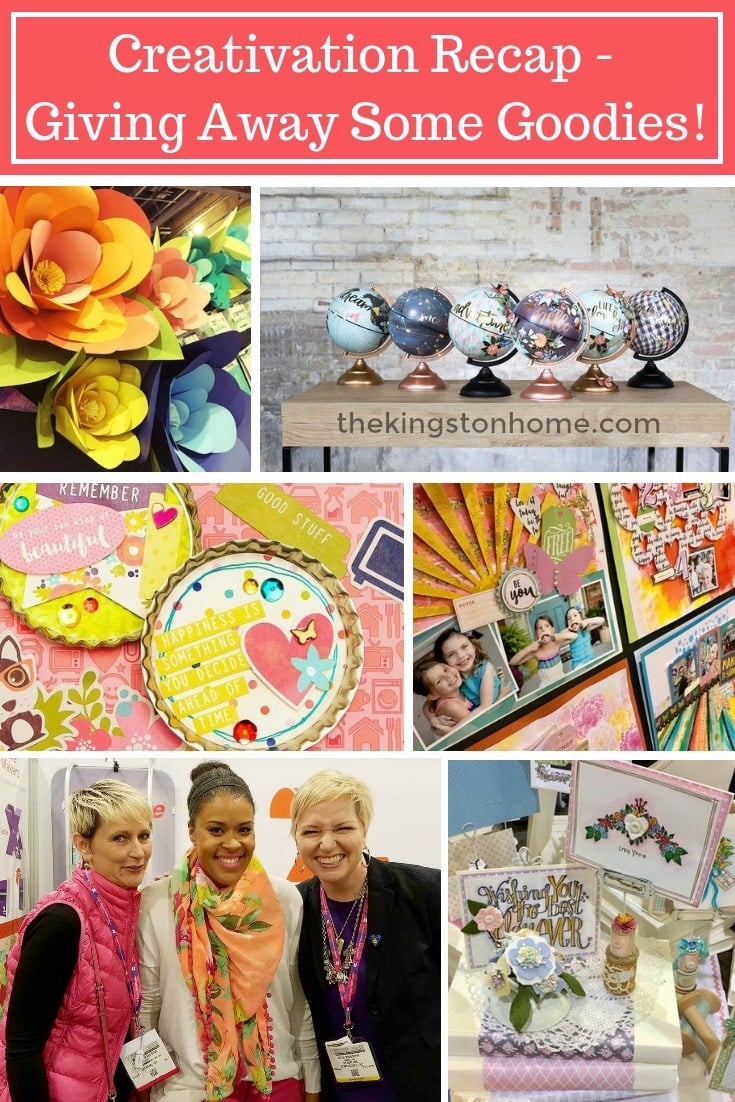 THE EYE CANDY. Oooohhhhhhh the eye candy. I did not get a chance to walk the whole show floor because I was in the Xyron booth much of the time, but the creativity and attention to detail and talent that this industry is built on is second to none. Everywhere you look there is inspiration and there are gorgeous creations and there are entire booths you just want to pack up and take home with you. Below is just a small sampling! From top left: Jillibean Soup, Vicki Boutin/American Crafts, Tammy Tutterow/Spellbinders, Maya Road, Plaid Crafts, Vicki Boutin (AGAIN – because I am obsessed with her!!)
THE PEOPLE. This is why I am so thrilled to come year after year after year. These are my people. I only get to see my Xyron family a few times a year, and I have been so fortunate to make deep and long lasting friendships with other folks across the industry – and THIS is the place where we come to reconnect, share ideas, make new friends, and just enjoy being together.
THE JOB. The Xyron booth was hopping all weekend long! Teresa Collins did make and takes in the morning and I did make and takes in the afternoon. We were SO lucky to have such great partners – Jillibean Soup and Lawn Fawn brought the pretty to the party with great papers and stamps and embellishments! We highlighted our NEW recyclable 1.5″ Sticker Maker, our 3″ Sticker Maker and our Magnet Tape – and I'll be sharing quick videos for both of these projects later this month! Want to see us in action? We've got FB Live videos on both the Xyron FB page and my FB page…I'm just not cool enough to know how to link to them here!
THE NEW STUFF. Being at Creativation can be almost overwhelming with the number of new products that are coming to market…but I picked out a few favorites that I just can't wait to get my hands on! From top to bottom:
These DIY 1canoe2 globes are EVERYTHING! They come pre-patterned and you can embellish them with stickers, vinyl words, lights, and much more!
Vicki Boutin's new collection from American Crafts. In addition to being one of THE MOST amazing, kind, talented people I am honored to call friend – Vicki makes mixed media fun and easy and inspires me with her colorful creative projects. I CANNOT WAIT for this!!
I've been looking for a letterboard for my house for a while now – Heidi Swapp to the rescue! Heidi is releasing white letterboards complete with handwritten words and colorful alphabets and you will be seeing these all over the Kingston casa before too long!
I LOVED latch-hooking when I was younger and I've always wanted to try weaving – so when I saw the new Plaid Leave It & Weave It and Ryatie collections I was in HEAVEN!!! I feel the 70s coming back to me in a whole new awesome way!
THE FUN. If you are ever in the Phoenix AZ area you MUST swing by Pinspiration. It is the kind of store/studio/hangout we would all love to own or have in our neighborhood! It is a DIY creative space where you can come with your girlfriends, your kids, your spouse – and choose from TONS of projects to make your own. The gang from DecoArt invited me to tag along for a "friends night out" and it was EXACTLY what we all needed. I…ummmmm…was too busy talking (and drinking wine) and completely screwed up my project – but I've got a tutorial coming up next week to show you how I took a creative "opportunity for embellishment" (ie: mistake!) and turned it in to a fun finished project I'm happy to hang in my living room!
THE GIVEAWAY. ok now let's get to the goods! I was lucky enough to bring home a whole suitcase full of awesomeness – and I want to share! Just leave a comment here and tell me what you saw from Creativation (from this post or anywhere else!) that you are excited about and one lucky winner will receive the following:
—gold Diamond Press machine
–PlaidCrafts tote bag filled with a dozen 2oz paints and8oz of ModPodge Sparkle
–Maya Road make and take bracelet and card
–Lawn Fawn Hoppy Easter stamp set
–Jillibean Soup Chit Chat Chowder collection
—Xyron recyclable 1.5″ Sticker Maker
Want more great Creativation coverage? Head on over to Scrapbook & Cards Today for another giveaway (ends February 2nd) and even more inspiration!