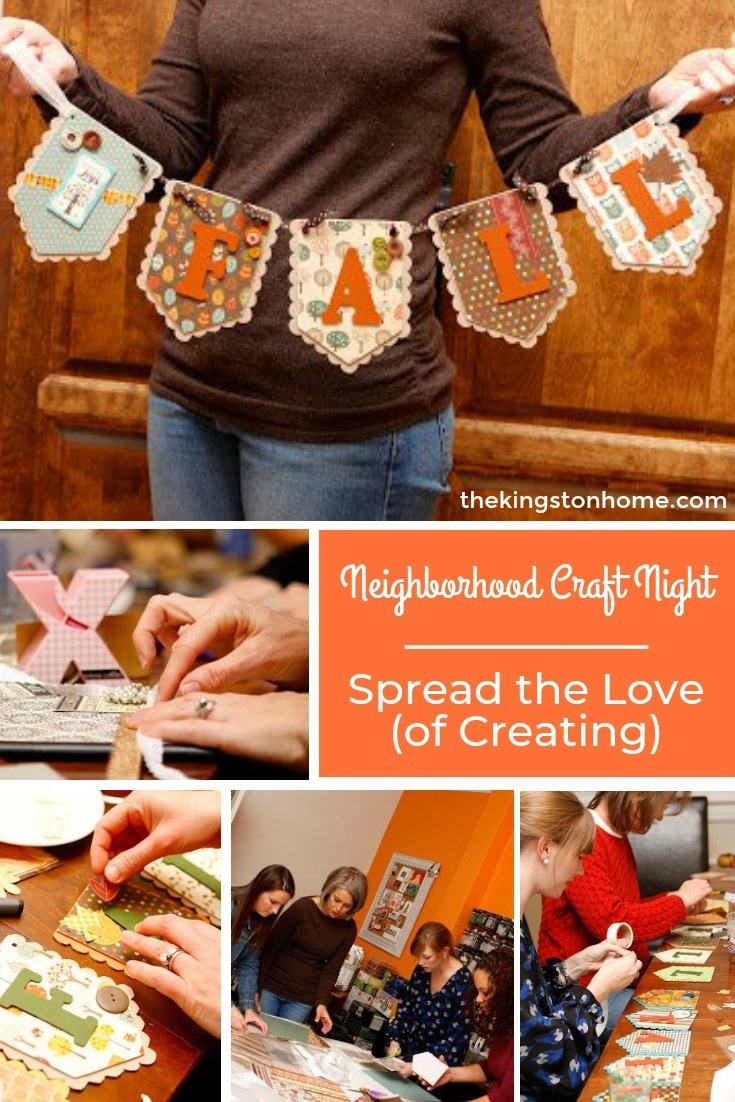 How many of you have friends (or neighbors or coworkers) who love what you create but say "I'm not crafty"? I know you do. We all do. What have you done about it?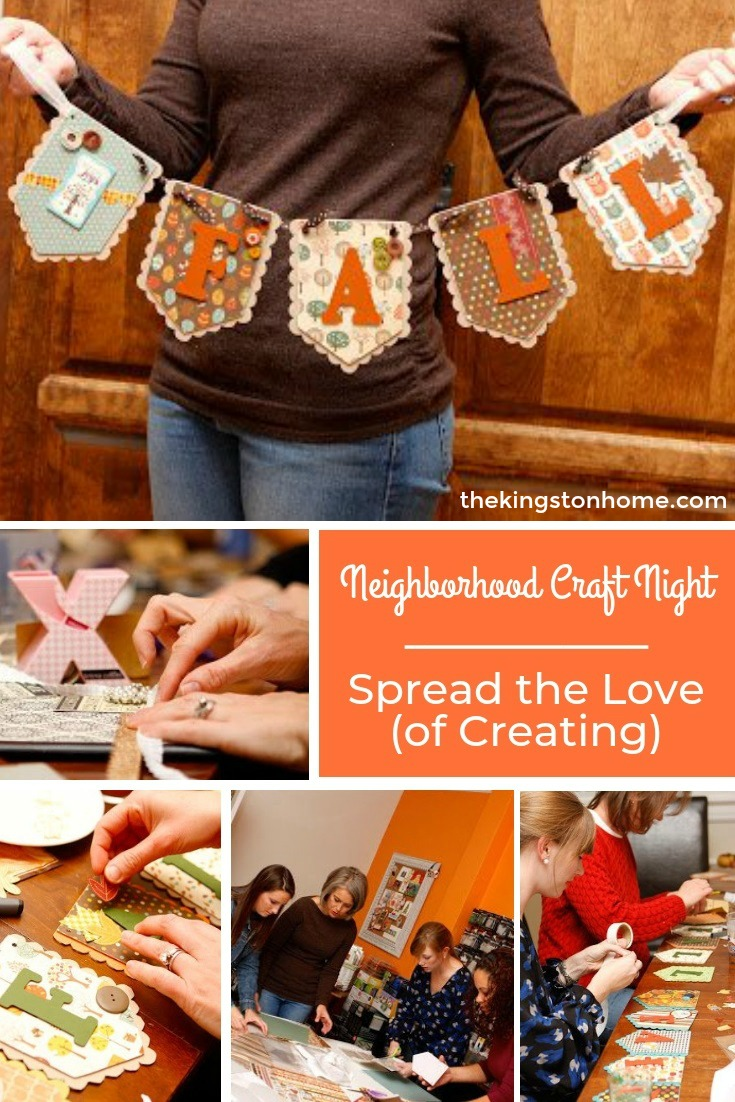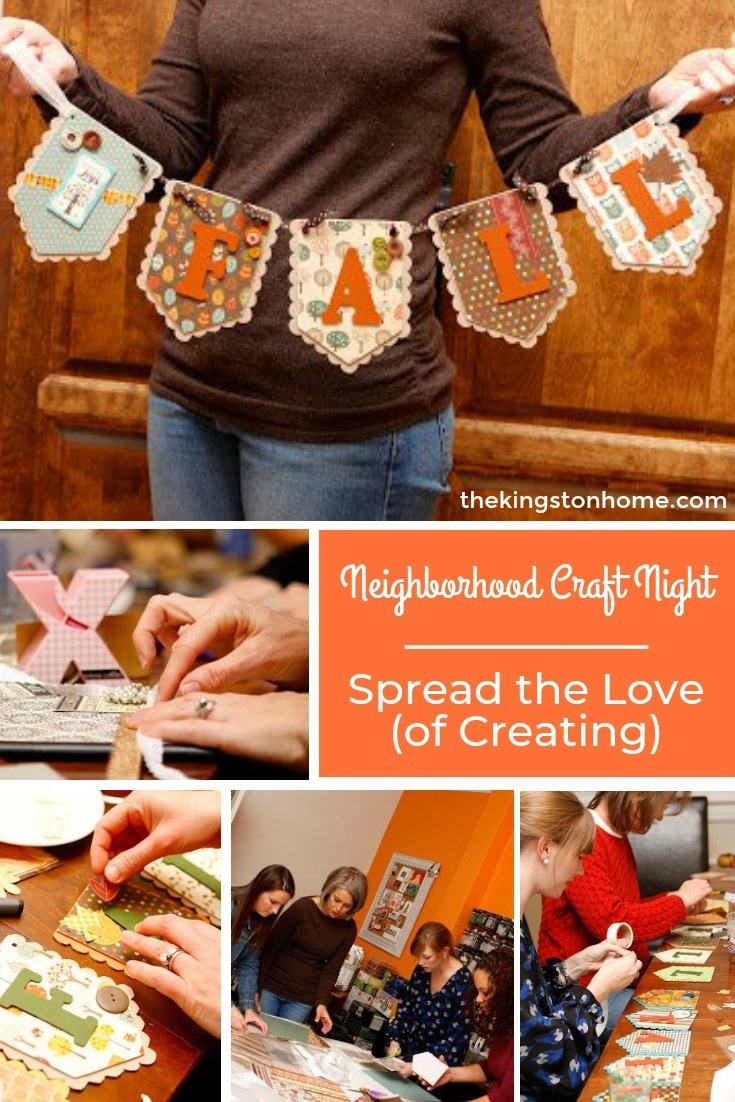 I'll tell you what I've done – I've invited them to crops and offered to teach them how to scrapbook and included them whenever I hosted a crafty home-based party. Over and over and over again. They never come, and I always wondered what I was doing wrong. Does this sound familiar to anyone?
A few months ago I created this Fall banner for a work project and hung it in our living room. Every time a neighbor stopped by I would get the same sort of compliment. "This is so gorgeous" or "You are so crafty" or "I would love to have one of those" ALWAYS followed by "but I'm just not creative." I was seriously (and delusionally) thinking about offering to make one for each person, and then one night Don said "Why don't you just have them over here and teach them how to make it themselves?".
WHACKING MYSELF ON THE FOREHEAD!
Instead of individually asking non-crafty people to come to a room full of girlfriends who are working on their own projects (a crop), or try to give them some intensive one-on-one help (teach them how to scrapbook) or invite them to an event where they feel pressure to buy something (home party) – why not invite them over to make one specific project where there are other "I'm not crafty" people and no pressure to buy anything and just a chance to get to know one another a little better?
And so – Craft Night was born.
I put a notice in our neighborhood newsletter and included a photo of the project and the cost (I just charged them what it cost me for supplies), asked for an RSVP and expected to maybe have four or five ladies interested. Instead – the next Friday night I had nine fabulous women from the neighborhood arrive for an evening of fun and fellowship and fall banners galore! (all photos courtesy of Busy Bee Photography)
Shockingly…we used my Xyron machines. 😉
Bizzy helped everyone make their paper selections…depending on the project you could probably just use what you have in your stash and save a little $. I did!
You know it isn't a craft night without snacks! I just made a few appetizers but you could ask your guests to bring something instead. For those of you looking for an AMAZING holiday beverage you can thank Don for your introduction to a Stone Fence (and let me just say two things here: one – I do not like bourbon but this cocktail is gooooood, and two – a big shout out to my home decor for making me admit that yes – we did this the week of Halloween and I am behind schedule posting it). 😉
It was such a fun and diverse group of women – not everyone knew each other, one of the women I had only met once and one of the women had never been to a neighborhood event. A few of them had never done crafts before, a few were crafty in other ways (sewing, cooking, home decor) and just wanted a night out with the girls to try something new, but they all created something that was theirs. Every banner was different, but every result was the same. They created something beautiful out of a few pieces of paper and some chipboard – and I was reminded time and time again that night how incredibly lucky I am to be part of a hobby that celebrates creativity and community and joy.
So this is my challenge to you.
Invite a group of women over to create.
You pick the project, you provide the supplies (and charge them whatever your costs are), maybe ask everyone to bring a snack, and see what happens. My advice? Don't invite your regular crafty girlfriends. Invite the co-worker who always admires your handmade cards or the teacher at school who loves the bulletin boards you create or the friend from church who always asks about your scrapbooks. If you can do it before Christmas – great. If not – how about making a winter wreath in January or a set of Valentine's Day cards in February? There are always great projects to be made and lots of women out there who would love to make them (but might not know it yet).
You and I already know the joy of creating something with your own two hands…so start your own craft night.
Spread the love. You'll be glad you did.
IF YOU ARE LOOKING FOR ANOTHER NEIGHBORHOOD CRAFT NIGHT CHECK OUT THE POST BELOW!