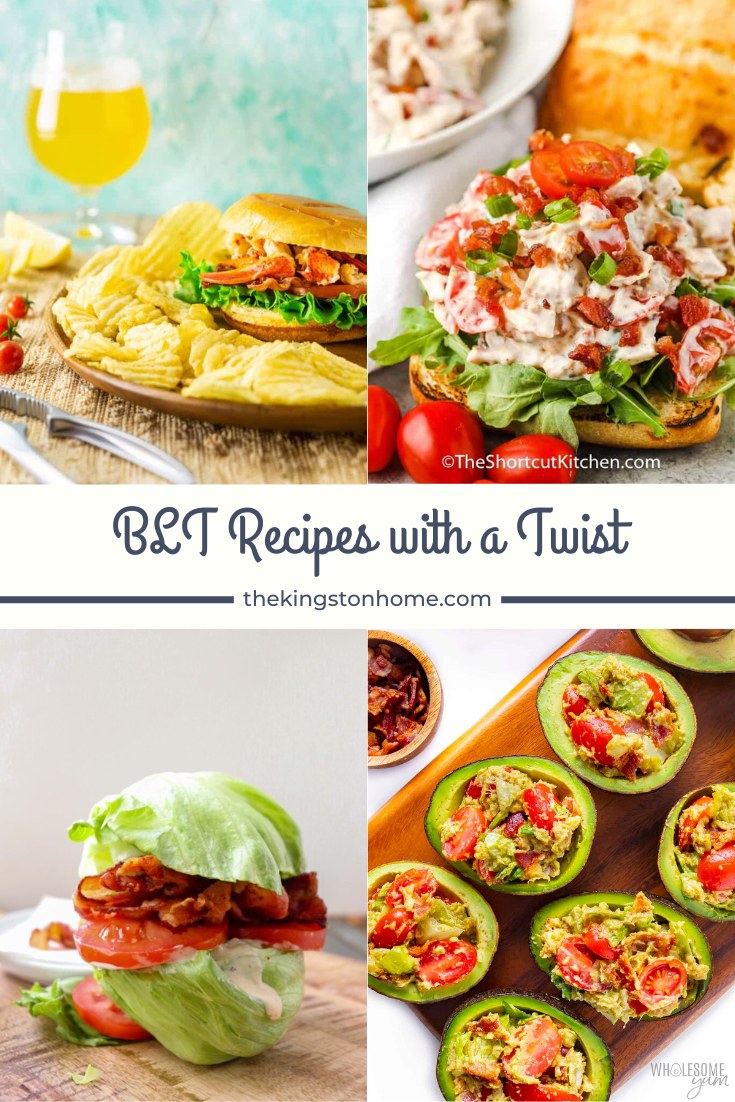 Are you craving a BLT but want something a bit more? Then check out our round-up of 15 BLT recipes with a twist!
Summer is here! That means garden tomatoes are in season, the iceberg lettuce is crisp and you can smell smoky bacon in the air!
Ok, maybe the smoky bacon is a bit much, but today we are kicking off the Summer season with 15 BLT recipes!
YOUR NEW FAVORITE WAY TO MAKE A BLT
You may be wondering how I could gather up 15 recipes for a sandwich that only requires a few ingredients. Well, sometimes you just get tired of the same old thing and want something a bit different. With that thought in mind, I gathered up 15 recipes that take your traditional BLT to the next level by adding a little twist.
That twist is different in all the recipes listed below, but some examples are adding a slice of cheese, using a different type of bacon, or not using bread at all!
So, if you are tired of the same old BLT sandwich, pick out one of the recipes below and try something new this spring!
15 BLT RECIPES WITH A TWIST
BLT Grilled Cheese by Spend with Pennies
Upgrade your traditional BLT sandwich by combining it with a tasty grilled cheese, to create a grilled cheese BLT! It is super satisfying for an easy meal.
Chicken BLT Salad by Simply Stacie
This BLT recipe brings chicken salad to the BLT experience for a filling meal option!
BLT Pasta Salad by The Diary of a Real Housewife
Fresh tomatoes, crunchy lettuce, and pieces of bacon come together in this BLT-inspired pasta salad! Make this for a party or picnic, or for a family dinner.
BLT Chicken Salad Lettuce Cups by Make The Best Of Everything
Swap out the slices of bread for crisp lettuce to create this delicious twist on a BLT! Create your own chicken salad BLT that is super tasty and easy to make!
BLT Stuffed Avocados by Wholesome Yum
Who needs white bread when you have an avocado?! Avocados are the perfect place to stuff a classic BLT sandwich for a low-carb spin on dinner!
California Club by Baking Beauty
This sandwich has all your favorite ingredients! Roma tomatoes, baby spinach, strips of bacon, lunchmeat, swiss cheese, and avocado come together on toasted bread to create this filling sandwich!
Best Ever BLT Sandwiches by Little Sunny Kitchen
To create the best BLT sandwich recipe, skip plain mayonnaise and create your own homemade version instead! This recipe not only shows you how to make an amazing BLT but how to make your own mayo that tastes better than the stuff in the jar!
MORE BLT RECIPES WITH A TWIST
Garlic BLT Stacks by Lana's Cooking
Upgrade the bread slices on your BLT by using garlic bread to create a hearty spin on the classic sandwich!
Low Carb BLT by Season and Thyme
Keep the carbs at bay with this option for a super fresh BLT sandwich that is keto-friendly and gluten friendly).
Fried Green Tomato BLT's by The Healthy Epicurean
Are you looking for a fun twist on a BLT?! Then check out this recipe that uses fried green tomatoes and regular tomato slices to create the best-ever fried green tomato BLT!
BLT Rotisserie Chicken Salad by Centsless Meals
Combine two of your favorite recipes to create this rotisserie chicken BLT-flavored chicken salad!
Lobster BLT Sandwiches by Burrata and Bubbles
Want to take your BLT to a whole new level? Add lobster for a sandwich everyone will talk about!
BLT Bagels by Sugar and Snap Peas
Create the perfect BLT using bagels instead of bread and cream cheese instead of mayo!
Soy Curl BLT Wraps by Zardy Plants
Want to have a BLT without the bacon slices? This recipe for vegans makes a good fake-out option!
Carrot Bacon BLT by My Quiet Kitchen
Who knew you could make bacon from a carrot?! This sounds interesting and delicious!
CAN'T GET ENOUGH TOMATO? THEN CHECK OUT OUT 15 RECIPES USING TOMATO AND BASIL!