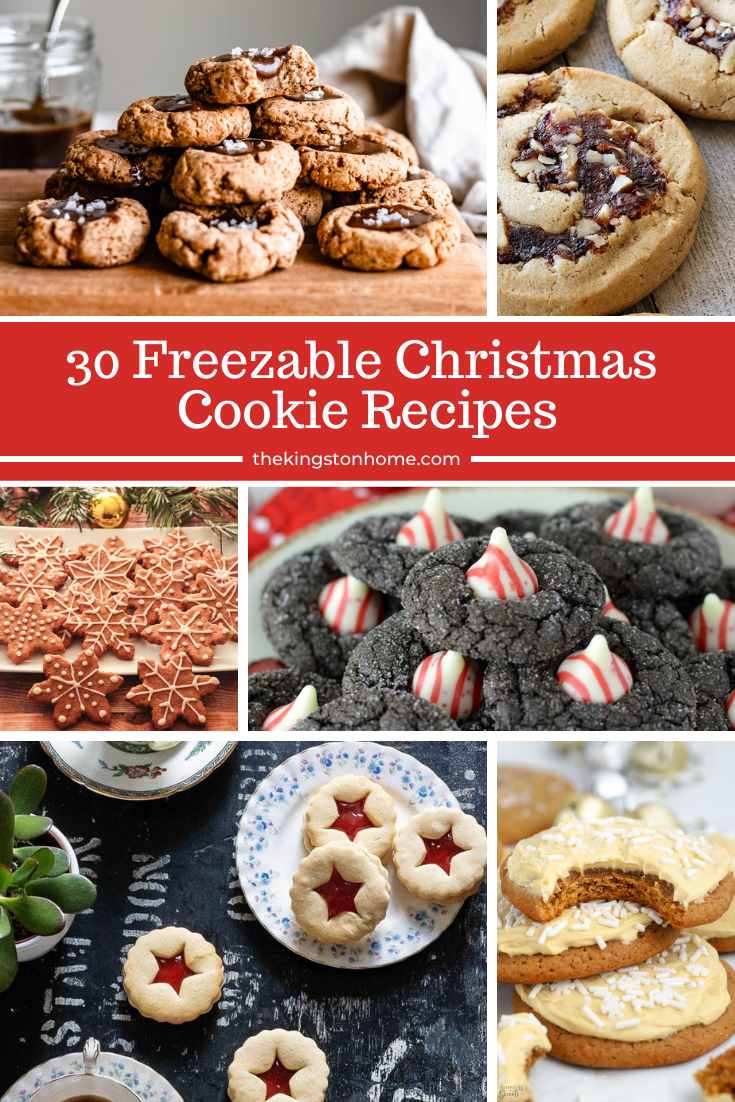 We all want to be Martha Stewart during the holidays – but there are only so many hours in the day! This year we're getting a jump start with these 30 freezable cookie recipes. Make now, bake later – or keep some in the freezer throughout the year and be able to make homemade cookies any time!
With Christmas just around the corner, nothing could be easier than making batches of your favorite holiday cookies ahead of time and freezing them for those busy days leading up to Christmas.
With this list of 30 Freezable Christmas Cookies, you can either make and store cookie dough in the freezer for fresh batches out of the oven closer to Christmas OR bake the cookies and store in an airtight container, ready for thawing and enjoying whenever you want!
30 FREEZABLE COOKIE RECIPES FOR CHRISTMAS
FOR THE PEPPERMINT LOVERS
Fall has its pumpkin spice, Christmas has its peppermint! Here are some of our favorite cookie recipes featuring the flavor of the season!
Candy Cane Amish Sugar Cookies: These candy cane Amish sugar cookies are simple to make, with no rolling required! Everyone will love these Christmas sugar cookies that are soft in the middle and topped with festive candy cane pieces.
Double Chocolate Cookies: What is a more iconic flavor combination at the holidays than chocolate and peppermint? These Holiday Double Chocolate Cookies have a wonderful chocolate peppermint flavor.
Chocolate Peppermint Blossoms: A unique taste on a holiday classic, these chocolate peppermint blossoms may look like peanut butter blossoms but with a chocolate cookie and candy cane mint Hershey's kiss, making them the perfect holiday cookie.
Peppermint Bark Cookies: These Peppermint Bark Cookies bring together everything you love about shortbread AND everything you love about peppermint bark in one bite!
Peppermint Chip Cookies: Chocolate chip cookies crossed with candy canes make for a fresh take on a classic for the holidays! The fresh peppermint flavor makes these cookies extra festive!
HOLIDAY FAVORITES
Crinkly, Cranky, Grinch Cookies: Have fun while whipping up these fun and easy Crinkly, Cranky, Grinch Cookies in the Grinch's honor!
Vegan Gingerbread Cookies: These amazing Oil-Free Vegan Gingerbread Cookies are a healthier version of this classic cookie. You won't believe there's no butter or oil! Made with whole grain flour, molasses, and the perfect amount of spices – you're going to love them!
Chocolate Dipped Butter Cookies: Chocolate Dipped Butter Cookies are the perfect treat for the holidays. Bake them, box them and gift them to everyone.
Sugar and Spice Cookies: These delicious Cinnamon Cookies are sugar and spice all things nice! So easy to make, fragrant and totally irresistible! Dust with cinnamon sugar for extra crunch.
Molasses Cookies: These Molasses Cookies are perfect for the holidays! They freeze beautifully, too.
Vegan Salted Caramel Thumbprint Cookies: Deliciously rich and lush vegan salted caramel thumbprint cookies that are undetectably Paleo and gluten-free! The perfect healthy and allergen friendly Christmas cookie!
Christmas Tree Slice And Bake Cookies: These festive vegan Christmas tree slice and bake cookies are completely grain-free, dairy-free, and gluten-free! Sweet and "buttery," these slice and bake cookies are a fun holiday baking activity for kids and adults alike!
Chocolate Ginger Crinkles: Chocolate ginger crinkles are the best Christmas cookie gift! They're soft, spicy and absolutely beautiful.
Snickerdoodles: Snickerdoodles are a classic part of the Christmas cookie plate. There is just nothing better than these cinnamon sugar treats.
Pecan Crescent Cookies: The recipe for these buttery, melt-in-your-mouth pecan crescent cookies is a family Christmas cookie recipe that has been passed down from generation to generation that you will love.
Warm Spiced and Buttery Holiday Cookies: These easy-to-make cookies combine all the spices and warm flavors of a cozy winter Holiday treat! They taste buttery, soft, and have that light crumble, perfect for dipping in your favorite cup of hot beverage!
Dark Chocolate Pistachio Shortbread Cookies: With a strong nutty flavor and a sandy texture combined with rich dark chocolate, these delicate, decadent cookies are the perfect combo of sweet and salty.
Cream Cheese Sugar Cookies: If chewy, thick and soft cookies are your sugar cookie goals, this Cream Cheese Sugar Cookie Recipe will amaze you with its amazing texture and flavors!
Keto Eggnog Cookies: Christmas is for eggnog cookies! This easy keto eggnog cookie recipe creates a soft treat. To make these even better, top them with homemade low carb caramel sauce!
Keto Snickerdoodle Cookies: This keto snickerdoodle cookie recipe lets you enjoy a cookie classic with only 3g net carbs! See how to make low carb snickerdoodles in just 30 minutes.
Christmas Cookie Sticks: If you're looking for a Christmas cookie recipe that's as fun as it is versatile, these Christmas Cookie Sticks might be just what you're looking for! Christmas cookie sticks are made especially for dunking!
Vegan Copycat Thin Mints: Vegan copycat thin mints are the definition of Christmas flavors, chocolate and mint! These easy cookies are a hit and great for gifts!
Cream Cheese-Filled Pumpkin Snickerdoodles: These deliciously soft and puffy pumpkin spice cookies feature a surprise sweetened vanilla cream cheese filling and a coating of cinnamon-sugar. These decadent, melt-in-your-mouth cookies are perfect for Thanksgiving, Christmas, or whenever you need your pumpkin spice fix.
Cannoli Cookies: This tasty twist on an Italian classic doesn't taste exactly like a cannoli, but combines all the ingredients and flavors you would expect from a cannoli into a cookie without having to fry anything. With a cake-like texture, these cookies are enriched with ricotta cheese, scented with orange zest, studded with mini chocolate chips and cannoli shell pieces, and topped with chocolate drizzle and sprinkles for holiday cheer.
LET'S ADD SOME FRUIT
I mean…if you put fruit in a cookie it is practically health food! 🙂
Fruitcake Cookies: These Fruitcake Cookies will get you into the holiday spirit! They have all the delicious makings of a traditional fruitcake but in a cookie form.
Cherry Kissmas (Christmas) Cookies: Topped with a chocolate kiss, Cherry Kissmas (Christmas) Cookies are so cute. These cherry-flavored cookies look super cute on a dessert tray. They also work great for a cookie exchange or to share with family and friends.
Date and Walnut Filled Cookies: Date Walnut Filled Cookies are tender, pillows of caramel-y cookie. These tasty cookies are moist and loaded with delicious, homemade date nut jam. These cookies are a nod to an old classic Christmas cookie, but with a new twist. The tender cookie dough is simple and basic with the caramel flavor you'd expect from dark brown sugar. And the jam will rock your world!
Jammie Dodgers: These homemade jammie dodger biscuits are really easy to make and taste delicious. They're also known as Linzer cookies, a popular Christmas cookie recipe.
Coconut Shortbread Cookies: Coconut shortbread cookies baked with a hint of lemon and toasted coconut! A batch of 25 cookies requires just 30 minutes to make from start to finish!
Cranberry Orange White Chocolate Cookies: With a crisp outer and gorgeously soft inner, these cranberry orange white chocolate cookies loaded with fruit, spices and nuts are packed with the flavours and aromas of Christmas.
Ditch the overwhelm of baking endless batches of holiday cookies a few days before Christmas and prepare these delicious freezable treats ahead of time, giving you more time to relax and enjoy the festive season while not running out of your favorite holiday cookies!
IF YOU ARE LOOKING FOR 30 MORE HOLIDAY RECIPES, THEN CHECK OUT OUR ROUNDUP OF EAST MAKE-AHEAD CHRISTMAS MORNING BREAKFASTS!