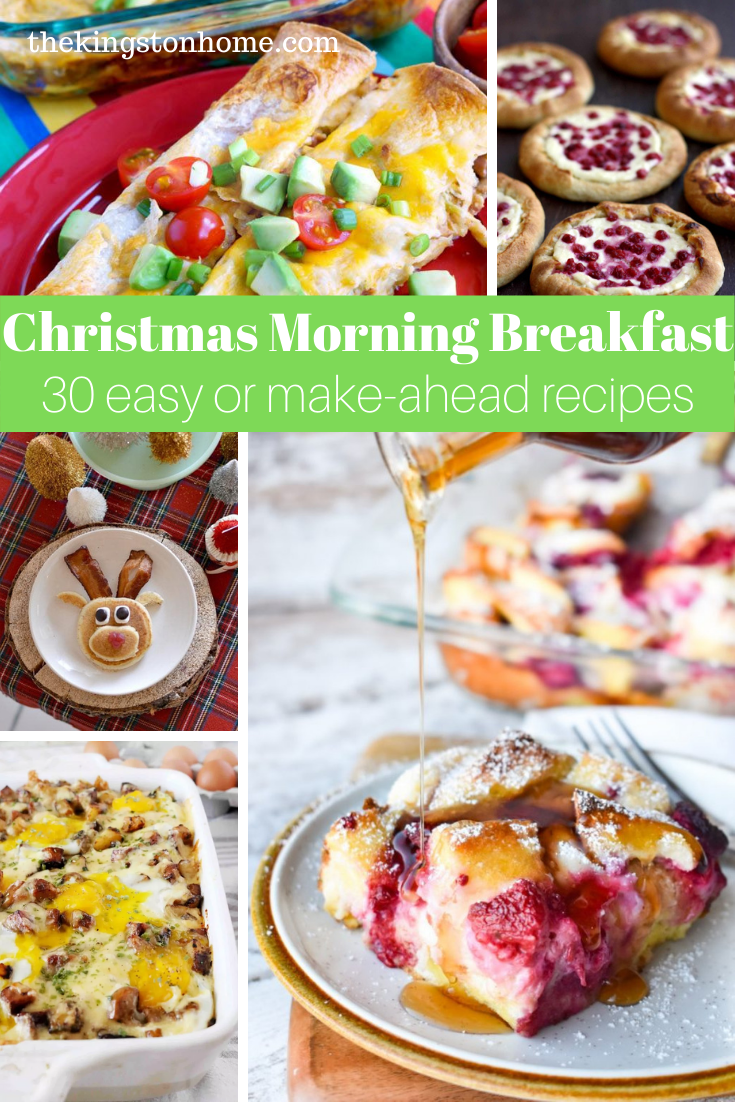 Looking for an easy Christmas morning breakfast? From sweet to savory, kid friendly to fancy, we've got 30 easy to make breakfast recipes for Christmas morning!
The gifts are bought and beautifully wrapped under the Christmas tree, Christmas lunch has been planned and prepared with the last bits to be warmed up or cooked before the guests arrived…but what about breakfast?!
Luckily, this list of scrumptious Christmas breakfast ideas can easily be made ahead either completely or at the very least the bulk of the cooking or baking can be done in advance which means that you get to start the day on a good note with a plate full of delicious Christmas breakfast without rushing around in the kitchen!
Here are 30 of my favorite Christmas morning breakfast ideas – including the one I make every year!
30 EASY CHRISTMAS BREAKFAST IDEAS
Classic Holiday Brunch Casserole: I grew up on this classic brunch casserole. We usually had it on Sunday mornings before church but it is even more perfect for holiday gatherings!
You can't lose with this sausage, egg, bread and cheese breakfast casserole. I make this every Christmas because it can be made ahead so we can enjoy Christmas morning without spending too much time in the kitchen. This year we tried it with low-carb bread (from Aldi) and it was JUST AS GOOD!!!! We're hooked!
Apple Kuchen: Celebrate Christmas all month with this easy to make German-inspired cake, filled with thin apple slices, and covered in cinnamon sugar and dried fruit. It's the perfect way to start any holiday!
Cheesy Grits Casserole: Cheesy Grits Casserole features a layer of creamy, cheesy grits, savory sausage, breakfast potatoes and a perfect topping of baked eggs and melty cheese. Southern food is all about comfort, and this casserole is breakfast comfort at its best.
Raspberry Cheesecake French Toast Casserole: This overnight French toast casserole has tart raspberries and a smooth cream cheese filling in each bite. The crispy top and custard-like bottom will have you going back for seconds….and thirds!
Lobster Benedict: You can seriously push the boat out this Christmas and have breakfast in style. This Lobster Benedict is unbeatable!
Homemade Orange Rolls: These fluffy orange rolls are the perfect treat for Christmas morning!
Bacon Egg Biscuit Casserole: An easy breakfast casserole recipe made with eggs, bacon and biscuits. It's super easy to whip up and can be made the night before and kept in the fridge.
Keto Cinnamon Rolls: These Ooey Gooey Keto Cinnamon Rolls with Cream Cheese Frosting are the perfect low carb breakfast! They're ready in just 10 minutes, and they're the perfect copycat recipe of a classic breakfast treat!
Gluten-free Gingerbread Pancakes: Gluten-free gingerbread pancakes are sure to add some spice to your holiday season. They are easy to prepare and full of flavor.
Mini Reindeer Pancake Pancakes: Surprise your little ones with gluten-free mini reindeer pancakes. They are easy to put together and so delicious.
No Yeast Cinnamon Rolls: Christmas morning cinnamon rolls with cream cheese frosting that can be prepared within 1 hour the night before or on Christmas morning and then pop them in the oven so they are warm and gooey for the whole family!
Easy Russian Buns: These delicious, fluffy and healthy farmer's cheese individual sweet buns look impressive and take a bit more than an hour to make! They make for a great tea-time treat, dessert as well as Thanksgiving or Christmas breakfast treat.
Sweet Potato Rolls:Healthy Cinnamon Sweet Potato Rolls recipe is perfect for Christmas or Thanksgiving breakfast or brunch. These rolls are delicious, moist, fluffy and easy to make!
Stewed Plums: Stewed Plums with cinnamon and brown sugar only take 10 minutes to make with 4 simple ingredients! The plums get beautifully poached and syrupy – perfect for Christmas breakfast served on their own or with oatmeal, granola, yogurt and more.
Maple Walnut Coffee Cake: Maple, walnuts, brown sugar and cinnamon are warm and comforting flavors perfect for the holidays. That's why this maple walnut coffee cake recipe makes the perfect Christmas breakfast to share with your loved ones!
Instant Pot Pancake Bites: Make these fluffy Instant Pot pancake bites for your next breakfast! They're easy and quick to make, and they're really fun to eat!
Christmas Tree Waffles: These are the cutest waffles! Green Christmas tree waffles make a fun Christmas breakfast that your kids are going to absolutely love. Quick and easy to make, and the kids can decorate their own waffle Christmas trees.
Nutella Pumpkin Cinnamon Rolls: This easy recipe for Nutella Pumpkin Cinnamon Rolls is what fall baking is all about! Pumpkin Cinnamon Rolls are chock full of the delightful, nutty flavor of Nutella and your favorite fall flavors.
Puff Pastry Breakfast Tart: This 5 ingredients and easy to make red, white and blue Puff Pastry Breakfast Tart is a great festive breakfast or dessert perfect for the Fourth of July, Christmas, brunches and more.
Sausage Breakfast Casserole: This sausage breakfast casserole is the perfect Christmas morning breakfast with minimal effort. No overnight setting up as this one only needs 20 minutes of prep time!
Churro Belgian Waffles: These waffles are light and fluffy on the inside, golden and crispy on the outside, and coated in cinnamon-sugar just like a churro. Turning your waffles into churros for breakfast is not only fun but makes for the ultimate breakfast or brunch.
Chocolate Cruffins: Layers of buttery croissant dough topped with grated dark chocolate and spiralled together for a beautiful zebra pattern. Baked in muffin tins, these croissants are crispy and flaky on the outside, while fluffy and buttery on the inside.
Cinnamon Roll Muffins: This is everything you love about a cinnamon roll in muffin form! These tender cake-like muffins are studded with cinnamon chips, ribboned with brown sugar cinnamon crumble, topped with a crunchy cinnamon streusel, and drizzled with a smooth vanilla glaze for a sweet treat ideal for breakfast or brunch.
Overnight Breakfast Enchiladas: These Overnight Breakfast Enchiladas are EVERYTHING! They're loaded with hash browns, pinto beans, green chilies, bacon, eggs, enchilada sauce, and cheese!
Tater Tot Breakfast Casserole: This Loaded Tater Tot Breakfast Casserole is an easy breakfast or brinner that's ready in just 60 minutes. This recipe serves 12 and costs $11.12 to make. That's just 93¢ per serving!
Homemade Monkey Bread: This Homemade Monkey Bread recipe is easy to make and made of sweet and gooey dough balls and a simple icing. It serves 8-10, and takes 100 minutes and $3.17 to make. That's just 40¢ per serving!
Canned Biscuit Dough Donuts: These canned biscuit dough donuts are the perfect treat for Christmas morning. They are easy and kids love them!
Air Fryer Frittata: Learn how to make a delicious and healthy air fryer breakfast frittata. Loaded with sweet potatoes, spinach, peppers, parmesan cheese and Mediterranean seasonings, this air fryer frittata is a game changer.
Air Fryer Egg Cups: Make easy air fryer egg cups in silicone moulds with your favourite egg cup fillings. It's ridiculously easy!
Biscuit Bar for Christmas Morning Brunch: If you have a crowd to feed at your house over Christmas weekend a biscuit bar might be a fun and easy option for breakfast. Simply scoop out some favorite jams or spreads in jars and let those at the table help themselves!
From small bite size breakfast treats to more substantial breakfast casseroles, there's something on this Christmas morning breakfast menu to be enjoyed by all! Happy Holidays!
LOOKING FOR ANOTHER GREAT CHRISTMAS RECIPE? CHECK OUT

THIS DELICIOUS SNACK MIX!