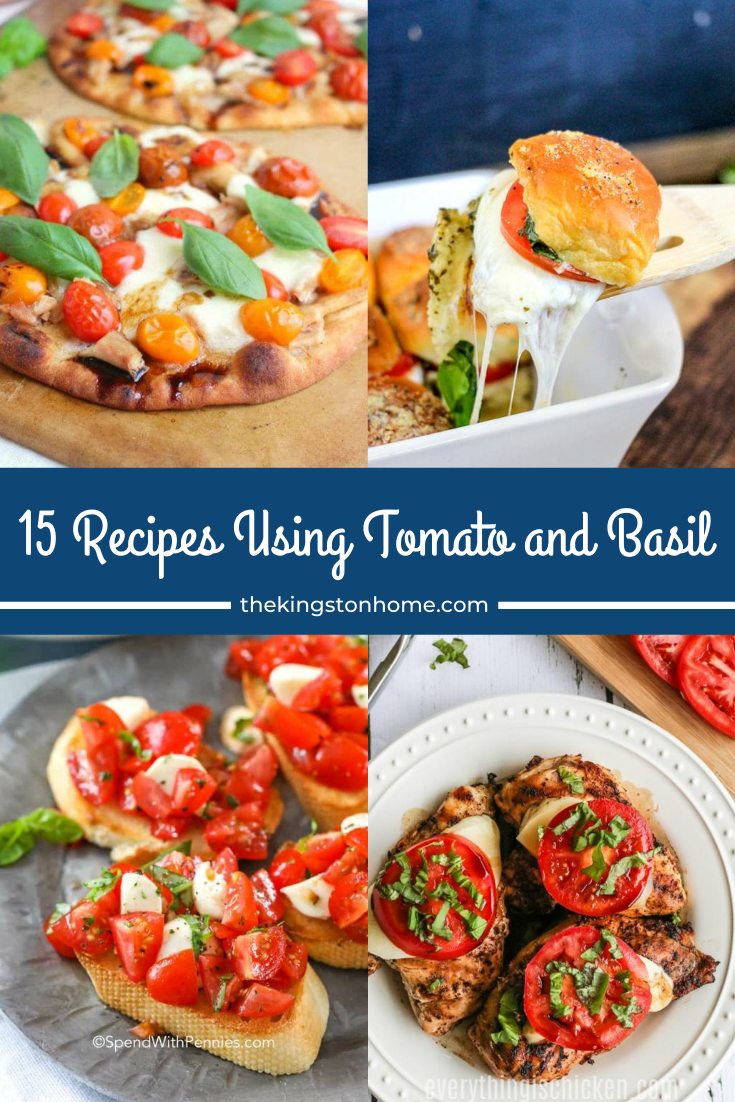 Got a lot of tomato and basil in your garden this Summer? Or can't resist them at the Farmers Market? All you need is a few extra ingredients to create the perfect summer recipe – and we've got 15 of them to share!
Fresh tomatoes are my love language. I can't pass a farmers market without buying at least a dozen, and if they have heirloom? Forget it! Combine that with my over planting of basil every Summer and now you know how we've arrived at this blog post. Today I'm sharing 15 of my favorite tomato and basil recipes – add some mozzarella (and…to be fair…usually some amazing fresh bread) and you've got a little slice of Heaven right there on your dinner table. You can thank me later!
15 Recipes using tomato and basil:
1. Caprese Sliders by Domestic Superhero
2. Caprese Bruschetta by Spend with Pennies
3. Caprese Sandwiches by Salty Side Dish
4. Grilled Chicken Caprese Pizza by Tastes of Lizzy T
5. Caprese Pizza by Plating Pixels
6. Caprese Pasta Bake by Food Folks and Fun
7. Baked Pesto Caprese Chicken by Mom Dot
8. Baked Caprese Chicken by The Gracious Wife
9. Open Faced Caprese Sandwich by Living Off Love and Coffee
10. Easy Caprese Chicken by Everything is Chicken
11. Roasted Garlic Caprese Sandwich by Giggles Galore
12. Hot Caprese Dip by Savory Experiments
13. Toasted Salami Caprese Sandwich by The Tiptoe Fairy
14. Caprese Lasagna Boats by Swanky Recipes
15. Caprese Skewers by Walking on Sunshine
Which of these amazing tomato and basil recipes will you be trying?? Let me know in the comments below!
Also, if you have a tomato and basil recipe that you love, feel free to share it in the comments!
LOOKING FOR ANOTHER GREAT RECIPE? CHECK OUT OUR POMEGRANATE AND GOAT CHEESE APPETIZER!