Baseball season is right around the corner, so don't strike out and miss these 15 FREE Baseball themed SVG files!
Whether you are a baseball Mom, you play in a local league, or just love the game itself, baseball season officially starts March 28th!
So, to get you ready for the season, we have 15 FREE Baseball themed SVG files that will help you to show off your baseball pride, while also looking fashionable! FTC disclaimer: this post contains affiliate links which means I may make a small commission if you make a purchase – at no additional cost to you.}
FREE Baseball SVG Files
If you follow my blog, then you know that I LOVE two things: 1) showing my support for any holiday/event through fun wearbale items (like t-shirts) and 2) clever puns! If you don't believe me, then check out my other SVG file wearable puns for St. Patrick's Days, and Easter.
So, with that in mind, this month, I used our free SVG file to create another funny t-shirt pun (which is more of a play on words). Either way, this t-shirt would be cute to wear at any baseball event you many be attending this spring or summer.
However, if t-shirts are not your thing, you could always use this SVG file to create other types of baseball-themed items, like tote bags or hats.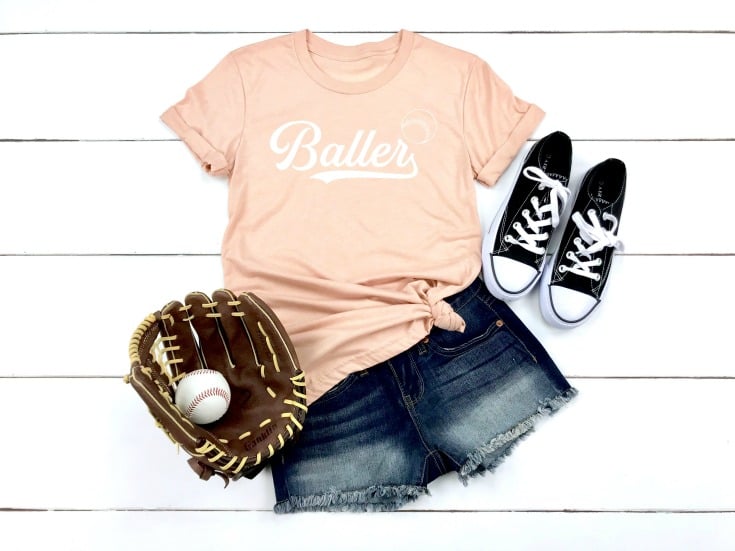 GET YOUR FREE BASEBALL SVG FILE
To get your FREE Baseball Baller SVG file simply enter your email address and the download link will be delivered right to your inbox! This will also sign you up for my e-newsletter (you can unsubscribe at any time) and you'll be notified when I release new free SVG files. You'll never miss a thing!
15 FREE Baseball SVG Files
I am RIDICULOUSLY lucky to be part of a creative girl tribe and every month we'll share FREE SVGs for upcoming holidays and events! See the links below to download all 15 FREE Baseball SVG files!
IF YOU ARE LOOKING FOR SVG FILES FOR ST. PATRICK'S DAY, THEN CHECK OUT OUR BLOG POST BELOW, WHICH INCLUDES 16 FREE SVG FILES!