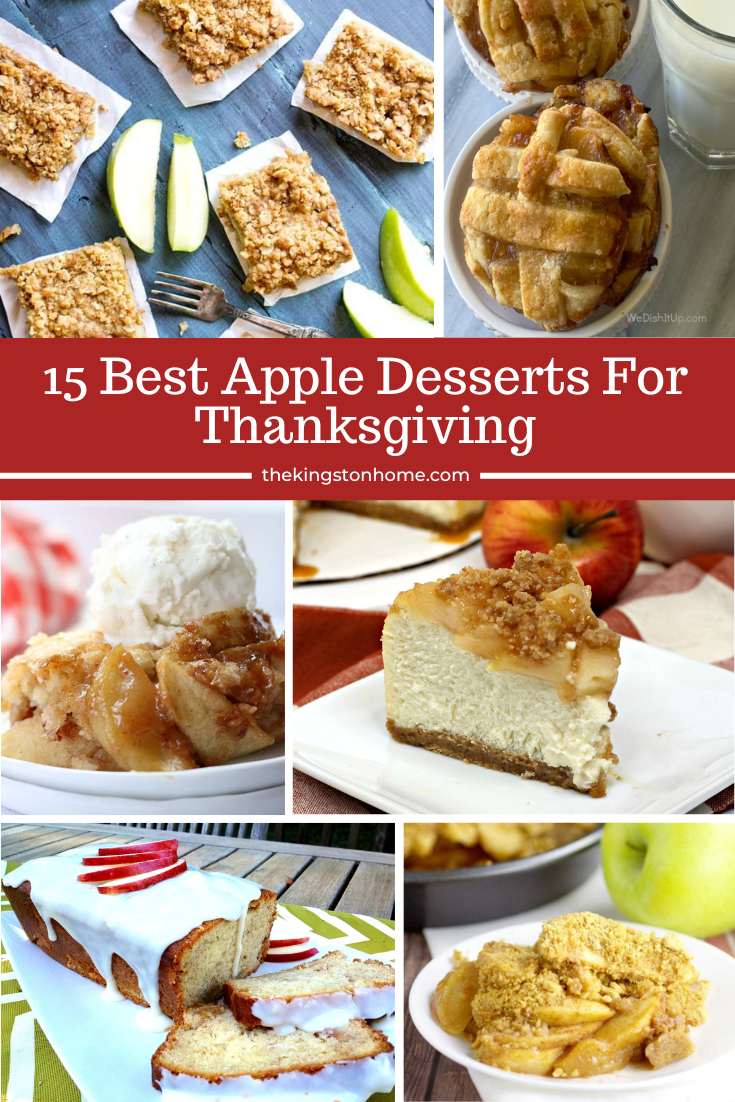 Are you looking for the best apple dessert for Thanksgiving? Well, today we rounded up 15 of our all-time favorite apple desserts, so you can find the perfect dessert for your celebration!
Apple season is upon us which means you may be looking for some delicious apple pie recipes!
Now, I don't know about you, but as much as I love apple pie, sometimes you need to try something new, especially when it comes to Thanksgiving desserts. So, to make your apple recipe searching a bit easier, I rounded up some easy desserts that would go perfectly with any Thanksgiving Day menu. Plus, on this list, I have rounded up cookies, cakes, and bars, so there is something for everyone!
15 THANKSGIVING APPLE DESSERTS:
Honey Apple Cake by Swirls of Flavor
If pie is not your style, then grab your best apples, and some honey, and make this deliciously moist cake!
Easy Apple Fritters by Centsless Meals
Did someone say apple fritters?! If you want to take your fall apples to the next level, fry them (instead of baking them) and roll them in some cinnamon sugar! This classic fall dessert is perfect to make in a pinch and can be made using your favorite type of apple.
Apple Butter Brioche Cinnamon Rolls by Slumber and Scone
Apple butter and cinnamon rolls are a match made in fall heaven! This recipe is a bit more time-consuming if you decide to make your own apple butter using your slow cooker. However, the time and effort are worth and your guest will love the final results!
Apple Pie Cookies by We Dish It Up
These apple pie cookies look compacted but they are so easy to make! Simply use refrigeratedpie crust and canned apple filling to make these tasty cookies!
Apple Cinnamon Oatmeal Cookies by Centsable Momma
If you love oats, then these cinnamon apple oatmeal cookies are for you! They are the perfect balance of crunch and sweet and would be perfect to snack on before your main course!
Caramel Apple Nachos by Princess Pinky Girl
If you have a hard time eating caramel apple pie, then grab some apple slices and caramel sauce to make your own caramel apple nachos! This delicious dessert is easy to make and only requires a few simple ingredients!
Apple Dumplings by Spend with Pennies
All you need is a scoop of ice cream and these melt-in-your-mouth apple dumplings to create the perfect dessert to have after your thanksgiving dinner!
Apple Pie Cheesecake by Mama's on a Budget
If you want to skip the classic apple pie this year, then check out this instant pot apple pie cheesecake!
Apple Cobbler by Cincy Shopper
A classic dessert for the fall season is definitely apple cobbler! This delicious recipe is easy to make and goes great with a scoop of vanilla ice cream!
Caramel Apple Cheesecake Bars by Snappy Gourmet
If you love caramel apple pie bars, then you will love these caramel apple cheesecake bars! This recipe uses chunks of apples, brown sugar, and oats, to create a sweet but crunchy dessert!
Cranberry Apple Crisp by She Keeps a Lovely Home
If you are wanting a sweet, tart, and crunchy dessert after Thanksgiving or apple picking, this Cranberry Apply Crisp will definitely hit the spot!
Caramel Apple Cheesecake Bars by Wandering Hoof Ranch
You just can't have enough recipes for caramel apple cheesecake bars! What makes this recipe so yummy is that instead of making a "homemade crust" out of oats, it uses graham crackers!
Apple Brown Betty by The Gracious Wife
If you don't want to spend hours making a homemade apple pie, then why not make Apple Brown Betty?! This recipe is a great way to use the ingredients you have on hand to create a delicious dessert, without spending hours in the kitchen!
Apple Oatmeal Bars by Tastes of Lizzy T
If crunchy topping and crisp recipe is your middle name, then you will love these Apple Oatmeal Bars!
Apple Pie Monkey Bread by The Pinning Mama
Instead of making traditional apple pie this year, make some Apply Pie Monkey Bread instead! Both kids and adults will love this recipe and will be wanting it year after year!
IF YOU ARE LOOKING FOR ANOTHER APPLE RECIPE, THEN CHECK OUT OUR RUSTIC APPLE TARTS!