Share some kindness (and snacks) during this busy holiday season, by saying "thank you" to your delivery drivers! Today we have gathered up thank you signs for delivery drivers, so you can create your own "snack station" to thank your local delivery drivers!
I'm sure this great idea is as old as time, but I first became aware of it this year and am KICKING MYSELF that I didn't think of it before! Everyone is hustling this time of year but no one more so than delivery drivers! Between delivering lots of packages, dealing with bad weather, and long days on the job, they deserve a THANK YOU!!!
So, today, I have rounded up a variety of FREE delivery driver signs that you can easily print. Plus, I am sharing snack station ideas and how to set up your snack station once you have everything put together.
SNACK IDEAS FOR DELIVERY WORKERS
Before we get to the free printable signs, let's talk about the "snack station"!
The "snack station" that you create for your hard-working delivery drivers can be as simple or as complex as you would like. The basic idea is to put out of basket of goodies on your front porch or by your front door that is filled with all types of delivery driver snacks. A great way to do this would be to get a small basket (you could get one from Dollar Tree) and fill it up with an assortment pack of snack-size treats.
For our snack station, I used a long wooden box and filled it up with both savory and sweet snacks, along with a few drink options. However, if you are looking for some ideas for your basket of snacks below are some of my recommendations!
Granola Bars
Bags of Chips
Popcorn
Pretzels
Cookies
Crackers
Candy
Fruit
Homemade Treats
Bottle Water
Sports Drinks
Coffee Drinks
Lemonade Mixes (or other drink mixes)
Juice
Cans of soda – If you live in a cold part of the country DO NOT leave out sodas! Ask me how I know. 🙂
The main things I would keep in mind are 1) WEATHER and 2) WHEN you are planning to set up your snack station. For example, if you are setting up your snack station during Black Friday, the Holiday Shopping Season, or the Christmas Season then it will most likely be cold in your area. Due to that, you should pick snacks and drinks that will be able to sit out for long hours outside in the cold.
TEN THANK YOU SIGNS FOR DELIVERY DRIVERS
So, we have our snack station, now we need a cute sign!
When looking at these free printables, don't overthink about how to print them! You can print them on regular printer paper or (if you want to get fancy) card stock. The most important thing is the small act of kindness you are doing and not how perfect your snack station looks!
Below you will find signs for postal workers, sanitation workers, and delivery drivers. You could also use some of these signs for service workers as well.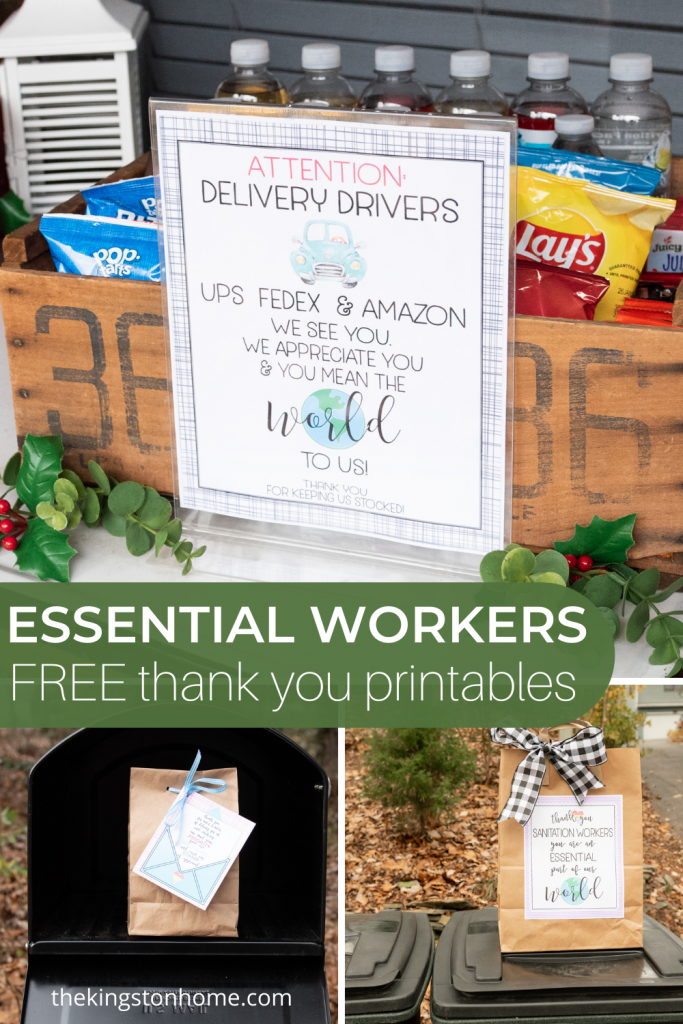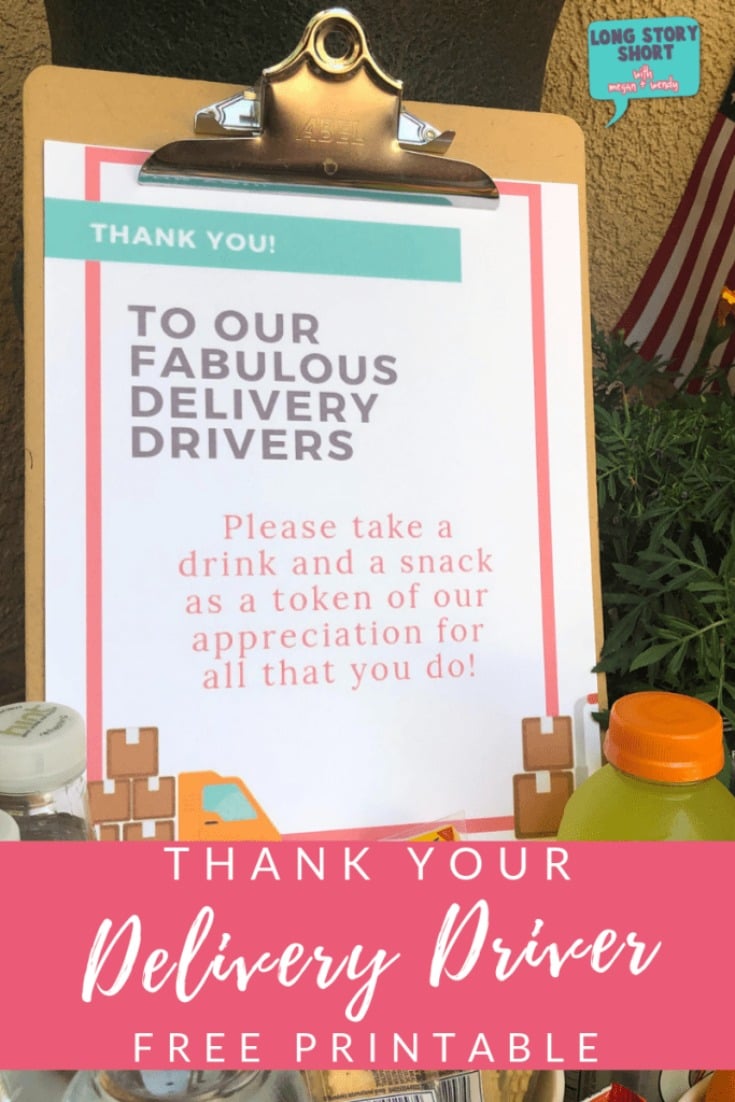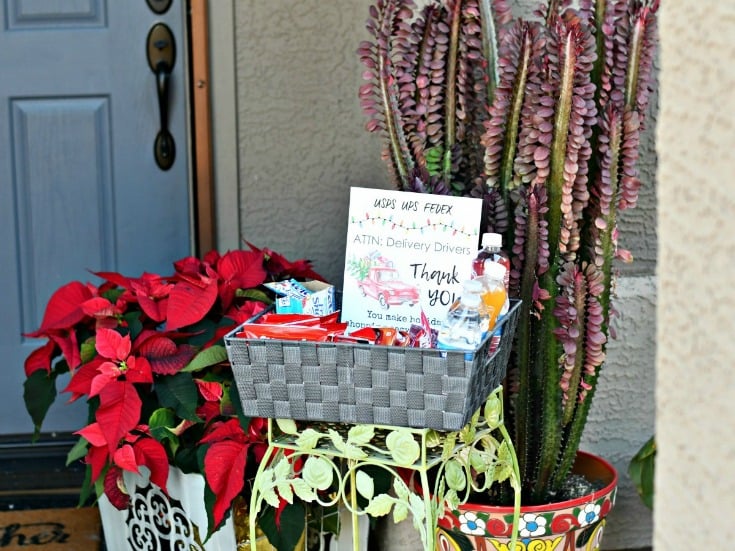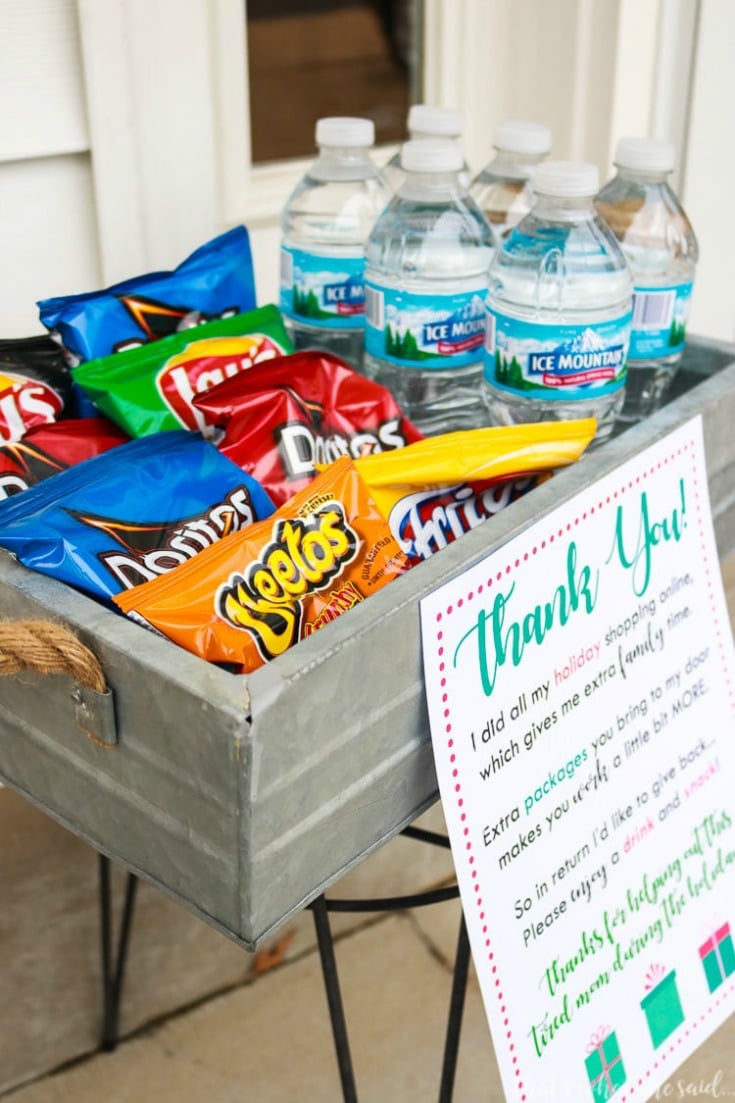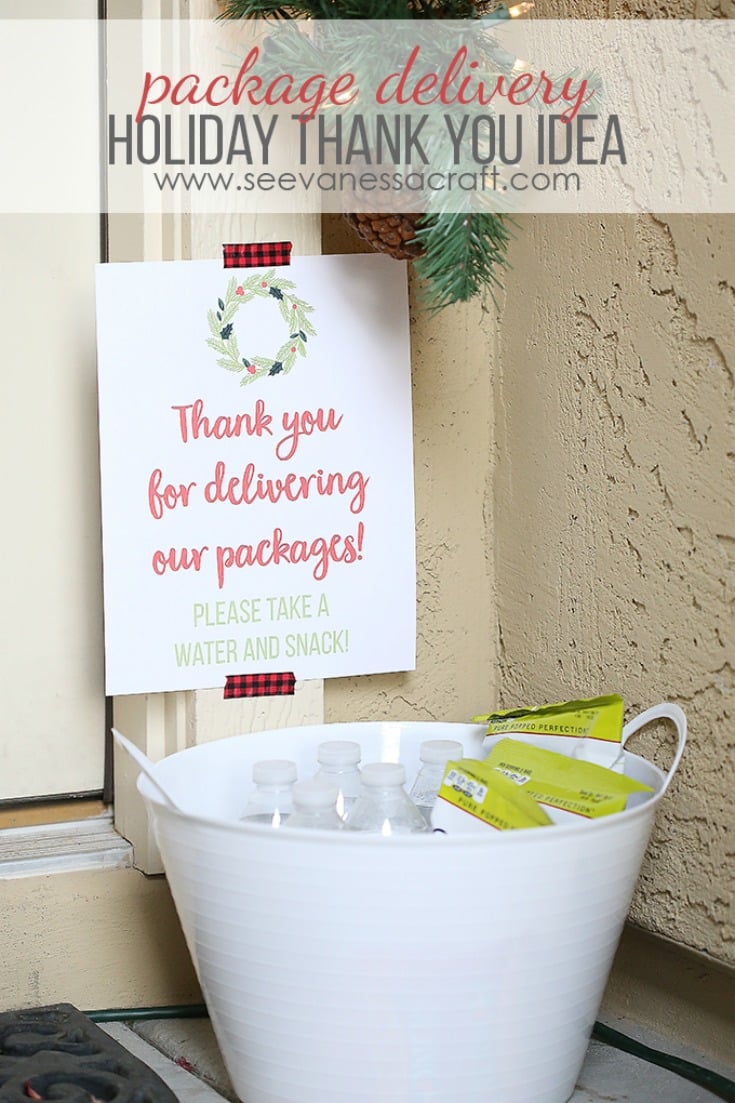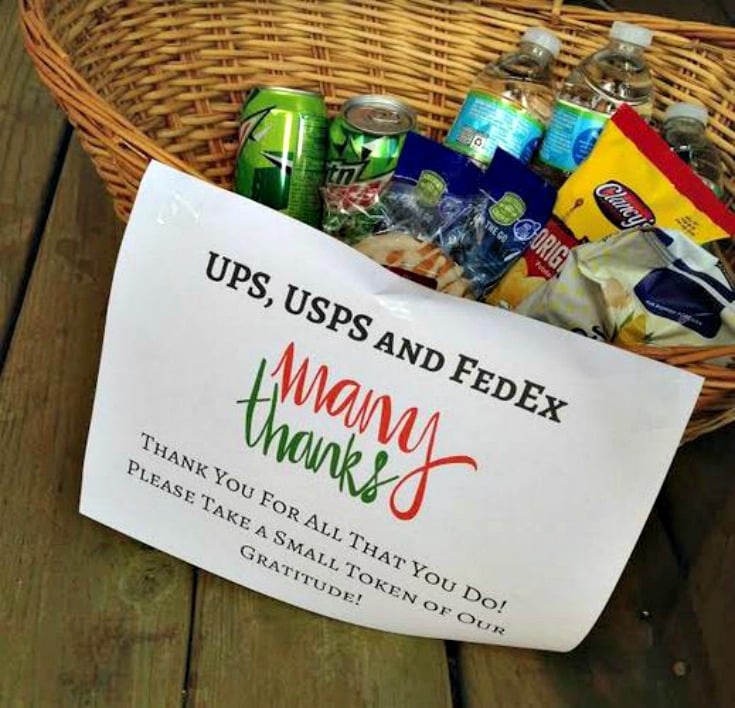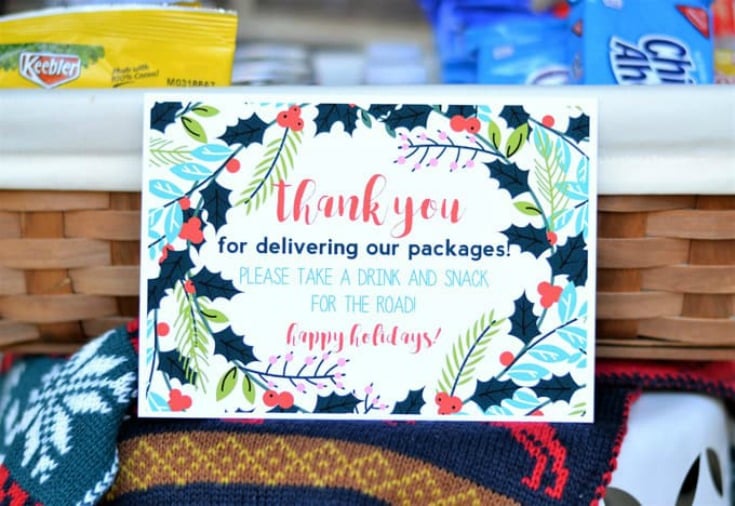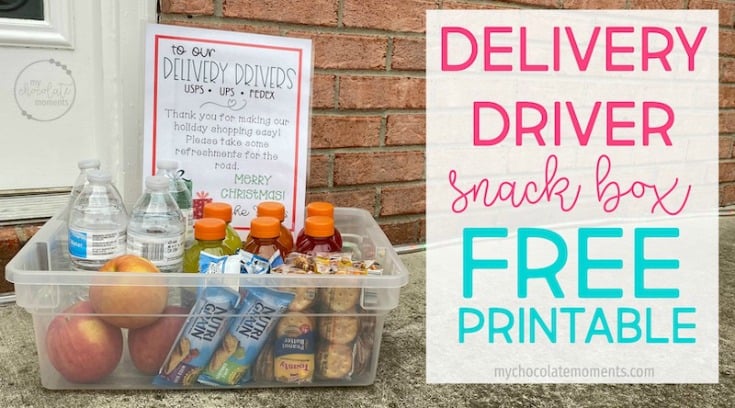 SETTING UP YOUR DELIVERY DRIVER SNACK BASKET IDEA:
Once you have your sign and snack basket, now it's time to set everything up!
​I find that simple is best when it comes to setting up your snack station. Whether you are expecting a lot of deliveries or only a few, it's best to have your snack station off to the side so the delivery people have enough room to work and set down your packages. An easy way to do this would be to set your station up on a small table, or crate, or place it off to the side on one of your steps (if you have them). If not, you could also place it in a chair, or in the corner by your door.
While setting up your station, make sure, it is noticeable. You don't want anything blocking it (like a huge plant) or have it so "out of the way" that it's out of sight. If your basket is small and you worry about it being missed, you could add a few decorations to the basket or incorporate it into your front porch decor (like I did above).
At the end of the day, no matter how we set up our snack stations, let's bring a smile to the faces of these incredibly hardworking delivery drivers and show them how much we care about them!
IF YOU WANT TO MAKE YOUR OWN SNACKS FOR YOUR STATION, THEN CHECK OUT OUR EASY CHRISTMAS SNACKS: REINDEER CHOW AND FREE PRINTABLE!